BondExchange Now Offers Subscription Payments For Surety Bonds
April 11, 2023
To be successful as an insurance agent in today's day and age requires you to constantly increase the amount of value you add to your customers. As the industry becomes more and more digitized, simply being able to issue policies is no longer enough. Now, you have to continuously prove your worth within a field of competitors that includes billion-dollar carriers and an ever-growing list of brokers that have the audacity to solicit your business while simultaneously competing with you for the same customers.
However, staying ahead of the curve isn't as hard as it seems, as all BondExchange agents can now offer pay-as-you-go surety bonds via monthly subscriptions.
In this article, we explain what our subscription-based service is and how it increases the amount of value you add to your customers.
What is it?
Our subscription service allows your customers to pay for surety bonds on a monthly basis and cancel them anytime. Other surety bond providers require your customers to pay hundreds or thousands of dollars upfront, with no possibility of a refund. If your customer no longer needs the bond before its term expires, they're most likely out of luck as obtaining a refund is extremely difficult (if not outright impossible). Some brokers and carriers offer installment plans, but these require relatively large down payments and still leave your customer on the hook if they no longer need their bond before the term expires (most premiums are fully earned).
Our subscription service creates a pay-as-you-go system for surety bonds and guarantees that your customers will never receive the short end of the stick when it comes to surety bond payments.
How it Works
Whenever your customer receives a quote, they can purchase their bond on an annual (up to three years) or monthly basis.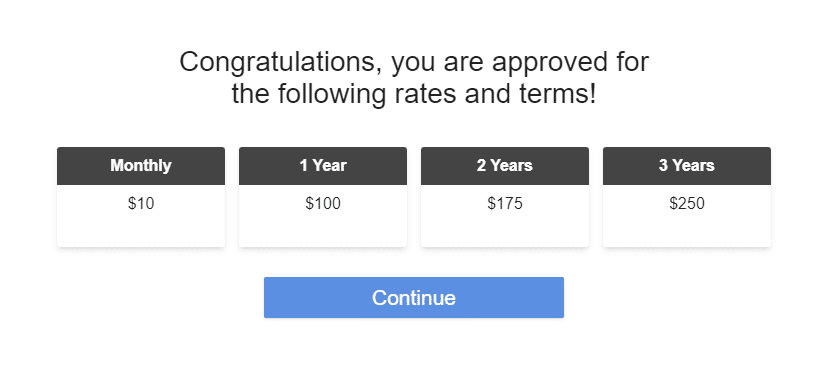 The longer the term, the more discounted the rate. However, if your customer is unsure how long they will need their bond to be active or if they know they will need it for less than a year, choosing the monthly option allows them to avoid paying for longer than is necessary and gives them the freedom to cancel their bond at any time. The monthly payment amount will always equal 10% of the one-year quote and is only available for bonds that have a cancellation provision (most bonds do).
Why it Matters
Offering monthly subscription options for surety bonds increases the amount of value you add to your customers and helps differentiate you from the competition. Our pay-as-you-go subscription service ensures that your customers will only pay what is needed for a surety bond and frees up their working capital by eliminating the need for sizeable lump-sum premium payments.
BondExchange is the ONLY player in the game that provides pay-as-you-go subscription options for surety bonds. Gain access to our platform today, it takes seconds, and let us make surety work for you.
We've issued a press release announcing our subscription program; check it out below.
"BondExchange pairs the monthly subscription offering with its best in class surety technology, allowing agents and their customers to seamlessly choose how to pay quoted premium with a single click…" (Continue Reading)