Gym Reopenings Spell Opportunity for Insurance Agents
July 1, 2021
2020 was a tough year for the fitness industry. Government mandated lockdowns and a lack of consumer confidence in the safety of gyms resulted in the industry experiencing a 58% decrease in revenue compared to 2019, and 7 major fitness companies closing their doors for good. This is a stark contrast to 2019, which saw gyms and fitness apparel companies reach record growth. Now, we're halfway through 2021 and today's industry climate is drastically different post-pandemic. Widespread availability of vaccines and an easing of COVID restrictions has gyms nationwide reopening their doors, providing insurance agents a unique opportunity to grow their book of business. As the old saying goes, "the night is darkest just before the dawn", and fitness companies are predicted to make a comeback in 2021. In this week's blog article, we explain why the projected growth of the fitness industry provides insurance agents the opportunity to expand their book of business and product offerings for health clubs.
Why was 2020 a Bad Year for Fitness Companies?
One word: COVID. The COVID-19 pandemic was devastating to fitness companies nationwide. Government mandated lockdowns forced gyms to close their doors, and the few gyms that were open had to operate at limited capacity. Additionally, the fear of contracting COVID caused many Americans to avoid gyms altogether, since they were commonly viewed as super-spreader environments. Simply put, fitness centers suffered tremendous losses in 2020 as a result of stay-at-home orders and a lack of consumer confidence in the safety of their facilities.
What's Changed?
The tides are beginning to turn in the industry's favor. Most states have rescinded their stay-at-home orders and now allow fitness centers to operate at full, or near full, capacity. The widespread availability of COVID vaccines has spurred consumer confidence in the safety of returning to crowded gyms. And there's also the fact that many Americans are eager to lose their so-called "COVID-19".
What Does This Mean For Insurance Agents?
Most states require health clubs (gyms) to purchase and maintain a surety bond as a prerequisite to opening their doors. The resurgence of the fitness industry over the past 6 months has 1) increased demand for health club bonds and 2) given established gyms the opportunity to shop their books of business for more competitive quotes. This provides insurance agents the opportunity to establish clientele as new gyms open and look to revisit terms for any existing customers as their policies come up for renewal.
What is a Health Club Bond?
Health club bonds are government required surety bonds that health club owners must purchase to obtain a business license. State bond requirements stemmed from efforts to shield the public from onerous long term contracts and forfeiture of pre-paid memberships should the club go out of business or fail to open.  These bonds ensure that club members will receive prorated refunds were the club to cease operations without providing services paid for. For example, if a health club were to cease operations after collecting full dues from club members, then the surety bond ensures that all dues paid but not earned will be refunded.
To learn more about the specific attributes of health club bonds (cost, claims, underwriting criteria etc) view our comprehensive guide.
How Can an Insurance Agent Obtain a Health Club Surety Bond?

BondExchange makes obtaining a Health Club Bond easy. Simply login to your account and use our keyword search to find the "health" bond in our database. Don't have a login? Enroll now and let us help you satisfy your customers' needs. Our friendly underwriting staff is available by phone (800) 438-1162, email or chat from 7:30 AM to 7:00 PM EST to assist you.
At BondExchange, our 40 years of experience, leading technology, and access to markets ensures that we have the knowledge and resources to provide your clients with fast and friendly service whether obtaining quotes or issuing bonds.
Which States Require Health Clubs to Purchase a Bond?
26 states and the District of Columbia require health clubs to purchase a surety bond. Click on the image below to view a full list of health club bond requirements by state.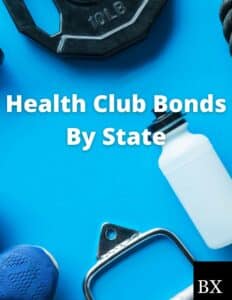 What Other Insurance Products Can Agents Offer Health Clubs?
Most reputable health clubs will purchase liability insurance to protect themselves from losses in the event a club member injures themselves on the club's property. Bonds are our only business at BondExchange, so we do not issue any other forms of insurance, but our agents often utilize brokers on these lines. A list of brokers in the health club space can be found here.
What's Next for the Fitness Industry?
2020 was a transformative year for the fitness industry, and the current road ahead remains unclear. The worst aspects of last year, lockdowns and a lack of consumer confidence in the safety of gyms, will hopefully be relegated to the past, but the innovation and adaptability of Americans' fitness habits is here to stay. People enjoyed the convenience of exercising from the comfort of their homes, as evidenced by Peloton's 100% increase in year-over-year revenue in 2020. Fitness centers will need to adjust to these new consumer preferences and find new and innovative ways to attract consumers.