How Escalation Clauses Protect Your Contractor Customers
November 16, 2021
The cost of construction materials is rapidly increasing, causing exacerbation among both contractors and consumers. Contractors are struggling to secure the supplies needed for jobs, and the materials they are able to obtain are often so expensive that many contractors are left shaking their heads and asking "Is this even worth it?" On the other hand, consumers are feeling the heat during the quoting process, causing many customers to delay projects until prices go down. So what does this mean for insurance agents? Well, agents are in a unique position to advise their contractor customers on the best practices for ensuring they have the proper safeguards in place to protect themselves against a tumultuous market. Specifically, the inclusion of an "escalation clause" can help prevent contractors from getting burned. In this week's blog article, we explain why the cost of construction materials is rising, and provide insurance agents with everything they need to know about escalation clauses.
Why are Materials so Expensive?
The cost of materials is increasing due to inflation and bottlenecks in the global supply chain. The Bureau of Labor Statistics states that the overall price of building materials has increased a whopping 19.4% over the past 12 months. In contrast, the cost of materials increased just 1.1% in 2020. In our opinion, there are three distinct factors that are causing inflation to rise and supply chains to be disrupted:
COVID
The impact that COVID has had on the global economy has been massive, and the world is still attempting to recover from the economic losses resulting from the past year and a half. Safety protocols forced many of the world's largest ports to decrease their shipping capacity, and as a result, increased the amount of time it takes to move freight between locations.
Rising Demand
The demand for goods is skyrocketing, and consumers are eager to resume their spending habits after more than a year of lockdown measures. Jonathan Gold, the VP of supply chain policy at the National Retail Federation told Business Insider that "demand grew so rapidly in the past two years that it's equivalent to about 50 million new Americans joining the economy." In normal circumstances the increase in consumer demand would be viewed as a good thing, however, COVID's impact on the supply chain is making meeting this demand unattainable and therefore causing prices to rise.
Labor Shortages
The shipping industry is currently experiencing a massive shortage of workers that is further amplifying supply chain issues worldwide. This issue is affecting all parts of the supply chain. Manufacturers are struggling to find workers to assemble products, ports can't find the labor to process freight, and the trucking industry doesn't have enough drivers to transport goods to their destinations.
Mix all three of these factors together and you are left with the cost of materials skyrocketing. Whether it be purchasing new homes or renovating existing ones, consumers are eager to spend money on construction projects. However, due to COVID and labor shortages, the cost of obtaining the materials needed to complete these projects is increasing. To learn more about how inflation is affecting the surety bond market, check out our previous blog article.
How are Contractors Affected?
Rapid increases in the cost of materials are causing headaches for contractors nationwide. For the construction industry as a whole, price increases lead to a reduction in the number of new projects started, construction delays as builders wait for materials to arrive, and project owners abandoning jobs due to rising costs. Contractors oftentimes see a reduction in profits during periods of price increases. For example, imagine a contractor whose bid was just accepted and who signed onto a project with an estimated cost of $1 million. Three months into the project and the cost of materials has skyrocketed and now the project costs $1.5 million to complete, forcing the contractor to eat these costs since the contract they signed only allocated $1 million in funds.
Additionally, the limits on most contract bonds are determined based on the initial estimate of the total project cost. However, these bonds contain overrun and underrun provisions which adjust the bond's limit to reflect the project's actual cost. When prices increase, contractors can end up paying more in premium for their surety bonds while simultaneously receiving fewer profits on their jobs. What this leads to is a reluctance among contractors to take on riskier jobs, as they don't want to risk suffering a loss if the price of materials rises.
How can Contractors Avoid Getting Burned?
To protect themselves during times of rising costs, and to avoid situations like the one we just described, contractors should insist that an escalation clause be included in all contracts. An escalation clause is a contract provision that guarantees adjustments to the contract amount to account for fluctuations in the costs of raw materials or labor.
To illustrate how escalation clauses work in practice, let's take a look at the scenario we described in the previous section. The contractor's bid of $1 million is accepted and due to rising material prices, the project now costs $1.5 million. However, the contractor's escalation clause shifts the burden for the increasing materials and labor costs to the project owner. Because of the escalation clause, the contractor is able to maintain their level of profitability and pay the premium owed on their surety bond at no additional cost.
Escalation clauses can also protect contractors from claims made against their performance bonds if material shipments are delayed.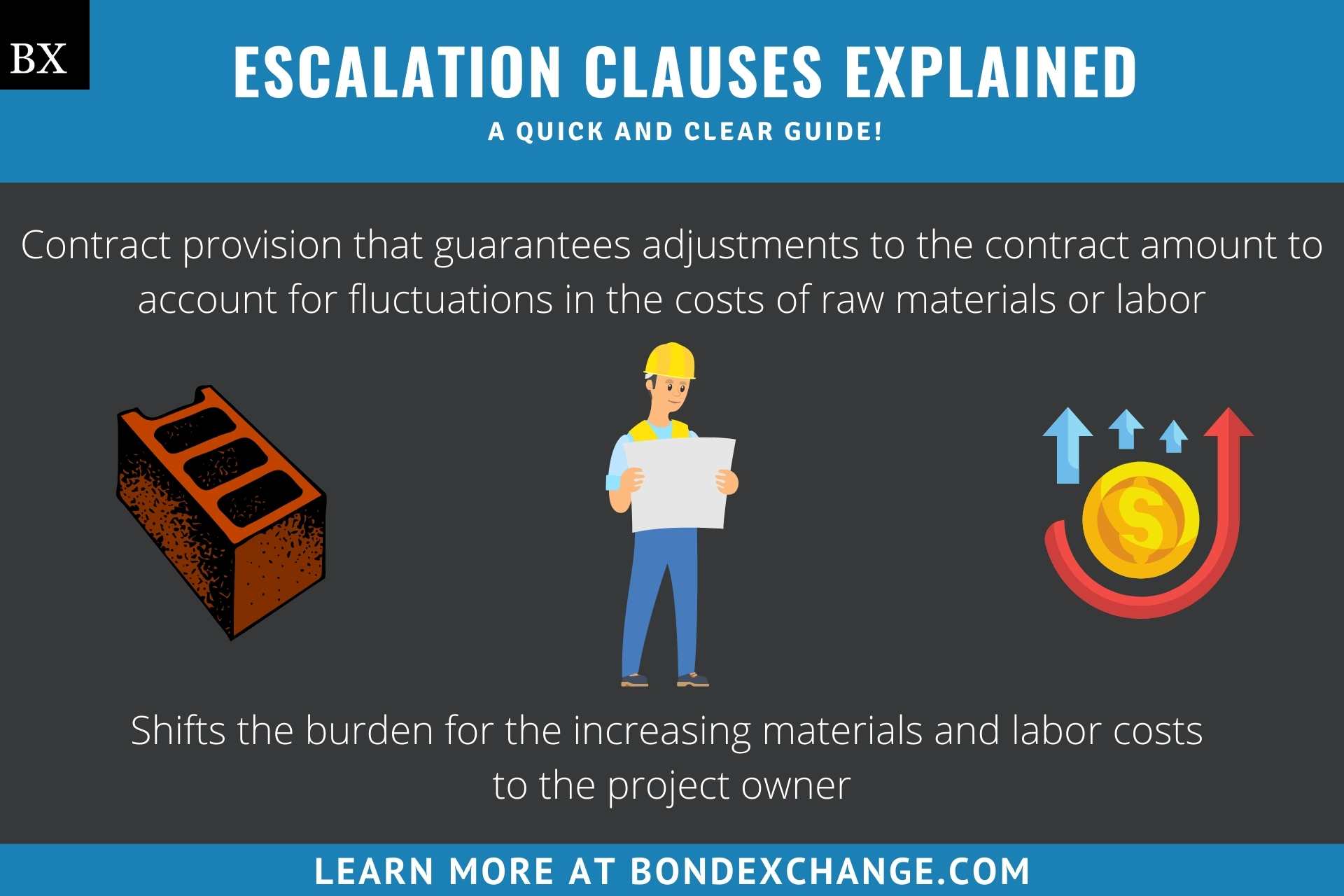 Advising Your Customers
The role of an insurance agent isn't just to obtain the lowest possible quotes but to serve as a trusted advisor to their customers. These are tumultuous times for the construction industry, and agents who take a vested interest in the well-being of their contractor customers are able to solidify their agent-client relationship and assist their customers in achieving long-term success. When assisting your contractor customers, ask them if their contracts include escalation clauses. Explain to them why the current climate makes the inclusion of an escalation clause necessary, and relay the benefits that these clauses provide to them. Your customers will most likely be aware of this information, but they are sure to appreciate their insurance agent taking the time to learn about their industry and will feel more comfortable doing business with you knowing that you have their back.
New Opportunities on the Horizon
The recently enacted $1.2 trillion bipartisan infrastructure bill (BIF) includes a provision that mandates all contractors purchase performance and payment bonds for projects that are federally funded from loans/grants under the Transportation Infrastructure Finance and Innovation Act (TIFIA). This provision presents insurance agents with the opportunity to issue more performance and payment surety bonds to their contractor customers. To learn how to attract more contractor customers, check out our blog article on this topic.
How Can an Insurance Agent Obtain a Surety Bond?

BondExchange makes obtaining a surety bond easy. Simply log in to your account and use our keyword search to find their bond in our database. Don't have a login? Enroll now and let us help you satisfy your customers' needs. Our friendly underwriting staff is available by phone at (800) 438-1162, email, or chat from 7:30 AM to 7:00 PM EST to assist you.
At BondExchange, our 40 years of experience, leading technology, and access to markets ensures that we have the knowledge and resources to provide your clients with fast and friendly service whether obtaining quotes or issuing bonds.