Understanding Subdivision Bonds: A Guide for Insurance Agents
Subdivision bonds are surety bonds that developers must purchase when performing government-required public improvements to a subdivision plat. While similar to contractor performance bonds, subdivision bonds have some unique features and underwriting requirements that can trip up even the most seasoned insurance professionals.
In this article, we explain how subdivision bonds work and how insurance agents can efficiently place these bonds for their land developer customers.
What is a Subdivision Bond?
Subdivision bonds are a type of surety bond that protects a municipality (usually a city or county government) from financial harm if a developer fails to complete public infrastructure related to a subdivision project.
Developers must purchase a subdivision bond if they intend to sell lots within the subdivision before the public infrastructure items have been completed.
When are Subdivision Bonds Required?
Subdivision bonds are most often required for developers who are constructing a new residential subdivision to ensure that they will complete the construction of all sidewalks, storm drains, streets, and other public infrastructure.
Though less common, a version of Subdivision Bonds known as Site Improvement Bonds, can also be required for improvements on existing buildings or developments.
What is the Purpose of Subdivision Bonds?
Subdivision Bonds are beneficial to developers, the obligee (city or county government), and the land/home buyers. These bonds allow developers to sell lots before the completion of public improvements, increasing cash-flow to the developer and preventing damage to the improvements while construction is ongoing.
The government and home buyers are provided with a guarantee that the necessary government services, i.e. adequate streets, flood control, street signs, and sidewalks, etc., will be completed.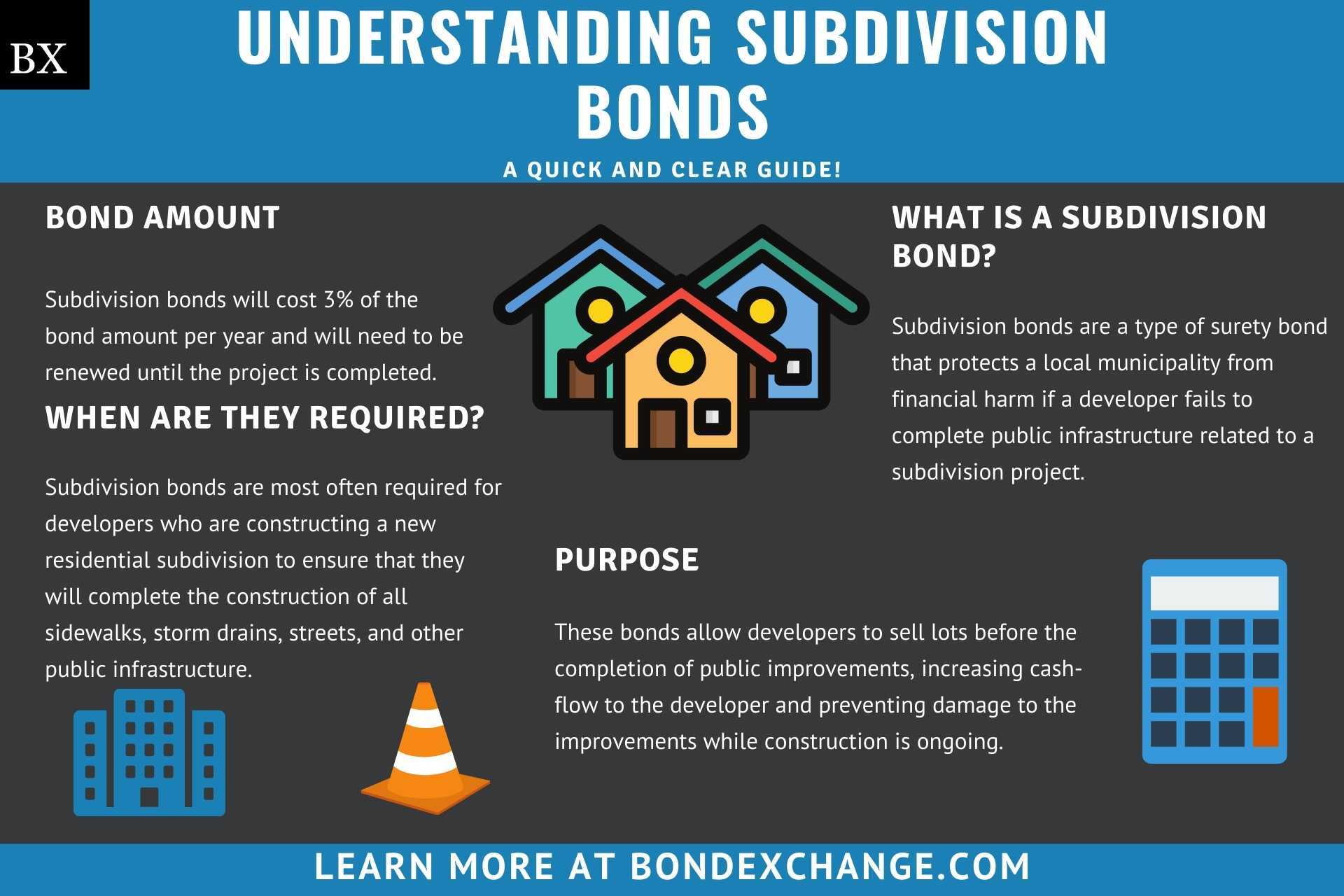 What Questions Do You Need to Ask Your Customers?
The following questions will quickly get the initial underwriting process started for your customer's subdivision bond:
Are You the Developer/Owner of the Project?
Subdivision Bonds are required for developers, not contractors. If your customer is a contractor, they probably need a bid, payment or performance bond. Our previous blog can also be helpful in determining the bond type.
Hint: if your customer's business is organized as an LLC, that is a good sign that they are a developer. Most developers create new LLCs for each development to protect other projects or personal assets in case the project fails.
How Are You Funding the Project?
Developers will need to provide proof that they have the funds to complete the project. Most projects are funded with loans and underwriters prefer to see a "set aside" letter from the lender that specifically designates the funds for the public improvements.
What is Your Largest Project Completed?
Developers with experience completing projects of similar size will have an easier time obtaining a subdivision bond. New developers or developers taking on significantly larger projects than previously completed will have a tougher time receiving approval.
When is the Expected Completion Date?
Projects with shorter durations (2 years or less) will be considered less risky than longer term projects. Expect additional underwriting questions for longer project durations.
What Type of Improvements Are Needed?
Underwriters will want to review the project details and the type of work the government is requiring. This information is usually shown on the site plan and engineer's estimate.
What are the Underwriting Requirements for Subdivision Bonds?
Subdivision Bonds are considered high-risk by most insurance companies due to long time-horizons and historical loss results. While claims are typically infrequent, general economic recessions and oversupply have created significant losses for these bonds in the past (i.e. 2007 – 2009). As a result, most surety companies will carefully underwrite subdivision bonds.
Underwriters will examine the following factors when issuing a Subdivision Bond:
Personal Credit – Though not necessarily indicative of the project's likelihood for completion, the personal credit of the developer can help insurance companies determine the developer's overall financial responsibility.
Developer's Experience – Developers with many years of experience will be seen as less risky. Insurance companies will also examine whether the developer has experience working on projects of a similar size and scope.
Financial Statements and Project Funding – Insurance companies will examine the developer's finances and the source of the project's funding to ensure that the developer is financially solvent and has the working capital necessary to complete the project.
Operating Agreement – Insurance companies will want to know the ownership structure of the development company, and whether all the owners are listed on the bond application. Most developers are organized as LLCs, which can have complex ownership structures.
How Much Does a Subdivision Bond Cost?
Subdivision bonds will cost 3% of the bond amount per year and will need to be renewed until the project is completed.
For example, developers will pay $30,000 in premium for a $1,000,000 Subdivision Bond. If the project is still ongoing after the first year, another $30,000 premium will be due each year until the city or county provides a letter releasing the bond.
Typically, the first year premium is fully earned; however, premium will be prorated for projects extending beyond the first year.
How Can an Insurance Agent Obtain a Subdivision Bond?
BondExchange makes obtaining a subdivision bond easy. We have an exclusive program making subdivision bonds under $250,000 as simple as an application and credit review.
Simply login to your account and use our keyword search to find the "subdivision" bond in our database. Don't have a login? Gain access now and let us help you satisfy your customers' needs. Our friendly underwriting staff is available by phone (800) 438-1162, email or chat from 7:30 AM to 7:00 PM EST to assist you.
Not an agent? Then let us pair you with one!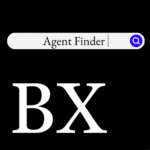 Click the above image to find a BX Agent near you