Contractor License Bonds: A Comprehensive Guide
This guide provides information for insurance agents to help contractors obtain Contractor License bonds
What is a Contractor License Bond?
Contractor license bonds are government-required surety bonds that contractors must purchase to obtain a contractor license or permit. Contractor license bonds protect the public from financial harm resulting from violations of licensing law committed by the contractor.
Most states require contractors to purchase a surety bond as a prerequisite for licensure and the bond must remain active as long as the contractor is in business.
Unlike most insurance products, surety bonds protect a third party (customers of the contractor) for acts that are violations of the law. When the surety company suffers a loss due to the contractor's actions, the contractor must repay to the surety company any losses and sometimes court costs and other fees.
Who is Considered a "Contractor"?
Most states require contractors to obtain a license and surety bond to operate in the state. State definitions vary on who is considered a "contractor", but the general rule of thumb is that individuals who install, alter, or repair any building or structure as an independent business must obtain a license.
Most states have some exceptions to this general rule, including:
Government personnel working on public projects
Officers of any court
Public utility companies
Individuals working on their own property or partnering with a licensed contractor working on their property
Some states only require certain contractors to obtain a surety bond and may require different bond amounts based on the class of contractor license (residential, commercial, specialty etc).
Who Regulates Contractors?
State government agencies regulate contractors based on license law written by each state's legislature. Governments enforce the law by instituting licensing requirements like examination requirements, background checks, and a surety bond. The surety bond ensures the public will be compensated if the contractor fails to comply with the law.
How Much Does a Contractor License Bond Cost?
Contractor License surety bonds generally cost between 1.5% to 7.5% of the bond amount per year. Monthly subscription options are also available. Why such a large spread? Insurance companies determine the rate based on a number of factors including your customer's personal credit and experience.
Contractors with the best credit and business experience can expect to pay the lowest rates, while contractors with poor credit will pay higher rates. The chart below offers a quick reference for the approximate bond cost on a $25,000 Contractor License bond.

$25,000 Contractor License Bond Cost
| Credit Score* | Bond Cost (1 year) | Bond Cost (1 month) |
| --- | --- | --- |
| 800+ | $375 | $38 |
| 650 – 799 | $500 | $50 |
| 600 – 649 | $1,000 | $100 |
| 550 – 599 | $1,875 | $188 |
*The credit score ranges do not include other factors that may result in a change to the annual premium offered to your customers, including but not limited to, years of experience and underlying credit factors contained within the business owner's credit report.
Do Surety Companies Offer Financing on Contractor License Bonds?
Most contractor license bond premiums can be financed. To be eligible, the bond must have a cancellation provision in the bond form. Premium finance companies usually charge a finance fee and interest rate to provide the financing. BondExchange offers in-house payment plans for bond premiums over $500. Our payment plans are interest-free and can be set up instantly online with a customer credit card and a few clicks. We offer this option automatically for bonds that meet the eligibility requirements.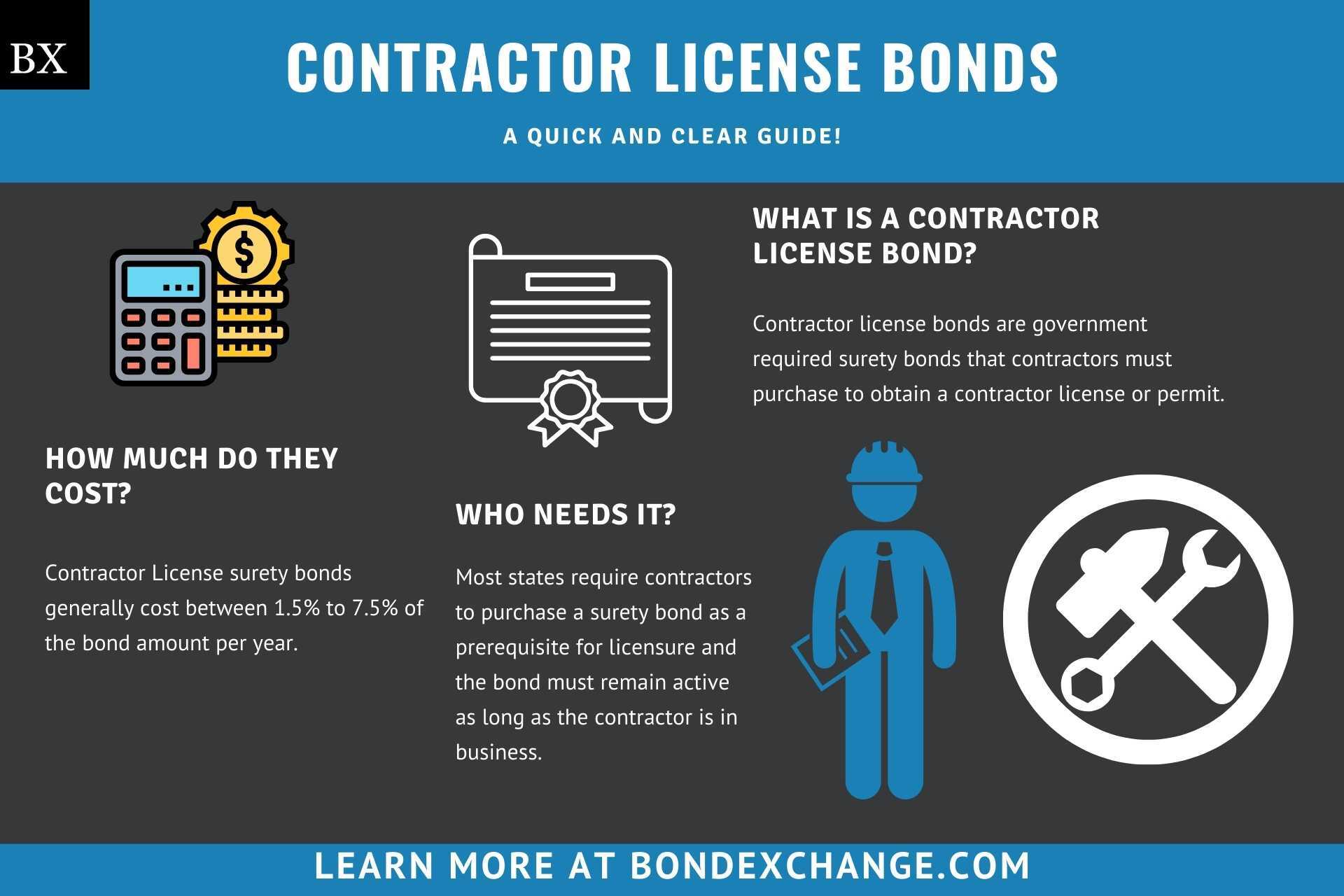 BondExchange now offers monthly pay-as-you-go subscriptions for surety bonds. Your customers are able to purchase their bonds on a monthly basis and cancel them anytime. Learn more here.
Is a Credit Check Required to Purchase a Contractor License Bond?
Yes, surety underwriters will review your customer's personal credit to determine their eligibility and rate for contractor license bonds. Most carriers use a "soft check", so the credit review will not affect the applicant's credit. Underwriters will consider other aspects of the contractor's application, but credit scores and their underlying data remain the primary underwriting tool for contractor license bonds.
What Information is Collected for a Contractor License Bond Application?
Surety company underwriters will collect and review the following information to determine eligibility and rate for a contractor license bond:
Contractor's Business Legal Name and DBA if applicable
Business Address and Phone Number
Years in Business
Contact Phone Number
Owner(s) Name, Address, and Social Security Number
For larger bond amounts (usually over $50,000), some surety companies will review the business's financial statement. Underwriters will be looking for businesses with sufficient working capital (current assets – current liabilities) and a history of profitability.
How Does a Contractor File Their Bond?
Surety bond companies will provide the contractor with a completed surety bond to be filed with the relevant licensing authority. Most states require the original bond with a raised surety company seal to be filed by mail.
Surety companies should include the following information on most bond forms:
Legal name and address of entity/individual(s) buying the bond
Surety company's name, address and phone number
Bond amount
Signatures of the surety representative
Date the bond is effective and issued
Corporate seal of the surety company
Power of Attorney
What Can Contractors Do to Avoid Claims Against a Contractor License Bond?
To avoid claims on a Contractor License Bond, contractors must adhere to all contractor regulations in their state. Best practices for avoiding claims include the following:
Do not engage, or allow representatives of the business to engage, in any acts of fraud
Pay all employees, suppliers, and vendors
Repair all public property damaged throughout the course of a project
Honor all contractual obligations
Pay taxes and fees on time
How Can an Insurance Agent Obtain a Contractor License Surety Bond?
BondExchange makes obtaining a Contractor License Bond easy. Simply login to your account, select the state the bond is needed in,  and use our keyword search to find the "contractor" bond in our database. Don't have a login? Enroll now and let us help you satisfy your customers' needs. Our friendly underwriting staff is available by phone (800) 438-1162, email or chat from 7:30 AM to 7:00 PM EST to assist you.
At BondExchange, our 40 years of experience, leading technology, and access to markets ensure that we have the knowledge and resources to provide your clients with fast and friendly service whether obtaining quotes or issuing bonds.
Not an agent? Then let us pair you with one!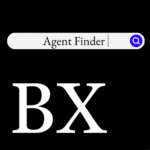 Click the above image to find a BX Agent near you
Which States Require Contractors to Purchase a Contractor License Bond?
Most states require contractors to purchase a contractor license bond. To view our comprehensive state-by-state guides, click the links below:
What Other Insurance Products Can Agents Offer Contractors?
Most states require contractors to purchase liability insurance. Contractors with employees will also need to purchase workers' compensation insurance in most states. Bonds are our only business at BondExchange, so we do not issue any other forms of insurance, but our agents often utilize brokers on these lines. A list of brokers can be found here.