How to File a Surety Bond
December 1, 2021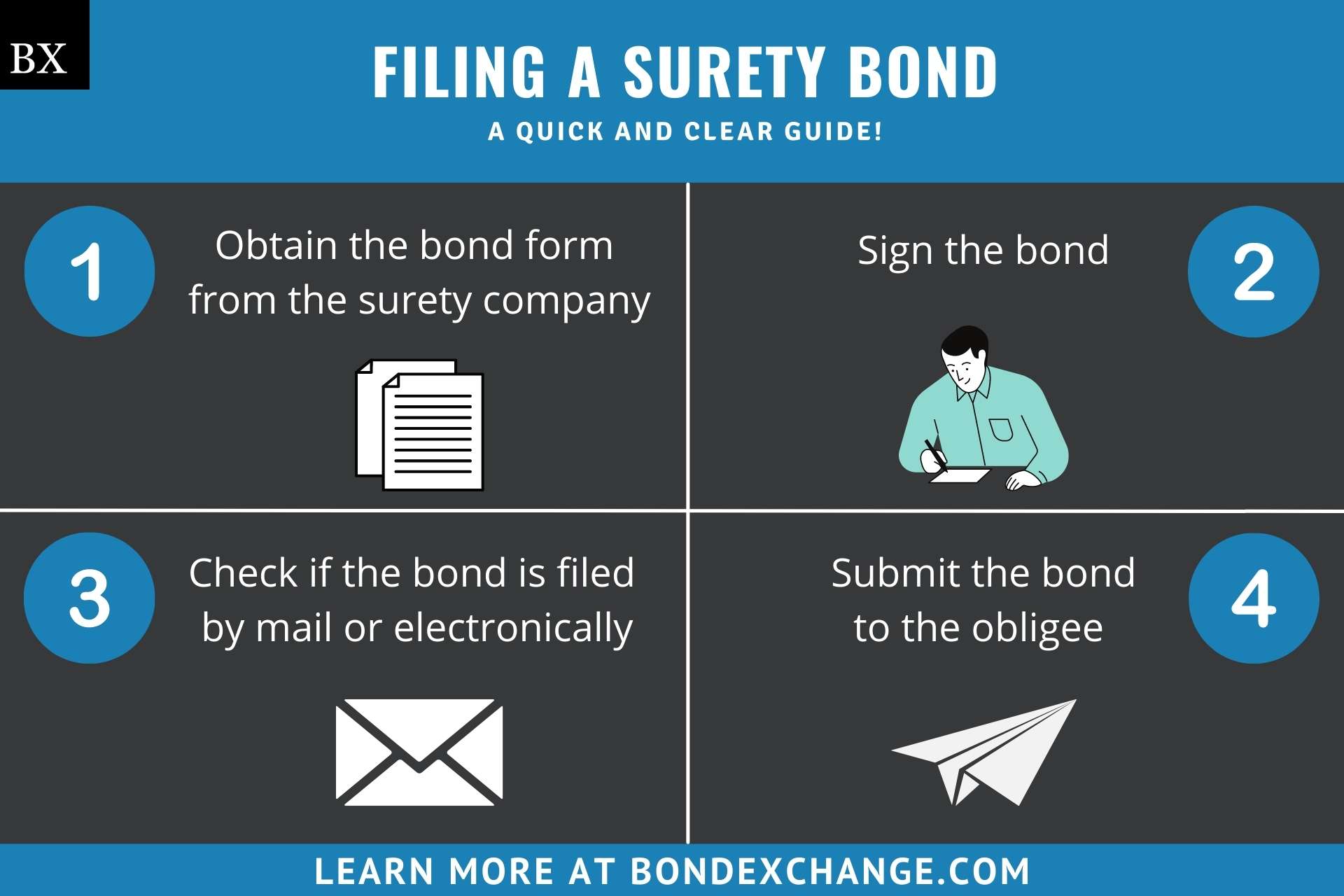 For most insurance products, the process of obtaining coverage involves two distinct steps. You provide your customer with a quote and then they purchase the policy. Now we all know that it isn't usually that easy, and agents often spend significant portions of their time consulting and advising their customers to ensure their coverage needs are met. However, the general process will always include the two same steps: Quoting and issuing. Surety bonds are unique in that they require your customer to perform a third step after the bond is purchased: Filing their bond with the obligee. This additional step can throw off your customers who are used to the relative simplicity of obtaining more traditional types of coverage. To help agents explain the filing requirements of surety bonds to their customers, we've put together this guide explaining why surety bonds need to be filed with the obligee and what the filing process looks like.
Why do Surety Bonds Need to be Filed?
Surety bonds need to be filed with the obligee as proof that the principal has met a specific set of criteria or requirements. To better illustrate this concept, let's briefly go over what exactly surety bonds are. A surety bond is a three-party contract between the principal (your customer), the surety company, and the obligee (entity requiring the bond). The obligee sets the bond requirement and the principal purchases the bond through the surety company. Surety bonds are required for a variety of different reasons, but they generally serve as a prerequisite of the principal to obtaining a business license or performing a specific action. Therefore, the obligee requires the principal to present proof of their bond coverage, through the act of filing their bond, prior to issuing a license or granting the principal the authority to perform an action.
Surety bonds can be confusing if viewed through the lens of more standard insurance products. Yes, surety bonds are technically considered an insurance product, but in practice, they more closely resemble (and are underwritten like) lines of credit. For example, imagine you are about to rent an apartment and the building owner just presented you with a lease agreement. Because the lease agreement is a legally binding contract, the building owner requires you to return the signed agreement as verification that you pledge to adhere to the conditions contained therein. Most surety bonds work the same way in the sense that the principal must sign the bond form agreeing to adhere to the bond provisions, and since the obligee is the one requiring the bond, it makes sense that the principal must file the bond with them.
How are Surety Bonds Filed?
As we previously mentioned, your customers will need to file their surety bonds with the obligee. Most surety bonds must be submitted via mail or in person, however certain obligees allow principals to file their surety bonds electronically. After your customer purchases their bond, the surety company will provide them with a completed bond form that they then must sign prior to submission. Some obligees will require the bond form to be notarized, so your customers should hold off on signing their bond until a notary is present. Below are the filing requirements for different surety bond types:
Business License and Permit
The obligee for these bonds will always be a government agency. Most business license and permit bonds must be mailed directly to the obligee. However, there are some exceptions:
Many financial services bonds can be filed through the Nationwide Multistate Licensing System (

NMLS

) electronically.
Freight Broker bonds are filed by the Surety Company electronically upon issuance.
Customs bonds are filed electronically with US Customs and Border Protection
Installation providers for Installations Made Easy and Lumber Liquidators can file their bonds via email.
Additionally, more and more states are allowing principals to file their bonds either through licensing portals or via email. If your customer does need to file their bond through the mail, then the bond form will most likely contain the appropriate mailing address listed at the top.
Contract
Contract bonds must be filed with the project owner. The project owner will typically want the original bond copy, which involves filing the bond either by mail or submitting it in person.
Court
Court bonds must be filed directly with the court that set the bond requirement. This can involve submitting the bond either in person or via mail.
Contact BondExchange for help determining how your customer's bond must be filed and we will happily help walk you through the process. Additionally, we frequently publish pages explaining the requirements for different types of surety bonds that include instructions on how the bond is filed. To find the page on your customer's bond, enter the name into the search bar here.
Do all Surety Bonds Need to be Filed?
No, most fidelity and employee dishonesty bonds do not need to be filed because there is no entity requiring the principal to be bonded. Fidelity bonds provide protection to a business and/or their customers if employees engage in any acts of theft. These bonds are generally not required by any government entity, but rather by customers of the business. As such, businesses do not need to file their fidelity bonds, but may be asked to provide proof of coverage by their customers.
How Can an Insurance Agent Obtain a Surety Bond?

BondExchange makes obtaining surety bonds easy. Simply log in to your account and use our keyword search to find your bond in our database. Don't have a login? Enroll now and let us help you satisfy your customers' needs. Our friendly underwriting staff is available by phone at (800) 438-1162, email, or chat from 7:30 AM to 7:00 PM EST to assist you.
At BondExchange, our 40 years of experience, leading technology, and access to markets ensures that we have the knowledge and resources to provide your clients with fast and friendly service whether obtaining quotes or issuing bonds.