Pennsylvania Auto Dealer Bond: A Comprehensive Guide
This guide provides information for insurance agents to help pre-owned car dealership owners on Pennsylvania Auto Dealer bonds
At a Glance:
Lowest Cost: $100 per year or $10 per month, based on the business owner's credit.
Bond Amount: 

$30,000 for full issuing agents
$20,000 for manufacturers and dealers

Who Needs It: All individuals or business entities who sell or deal in motor vehicles
Purpose: To ensure the public will receive compensation for any damages should the auto dealer fail to comply with dealer licensing law
Who Regulates Dealers in Pennsylvania: The Pennsylvania Department of Transportation (DOT)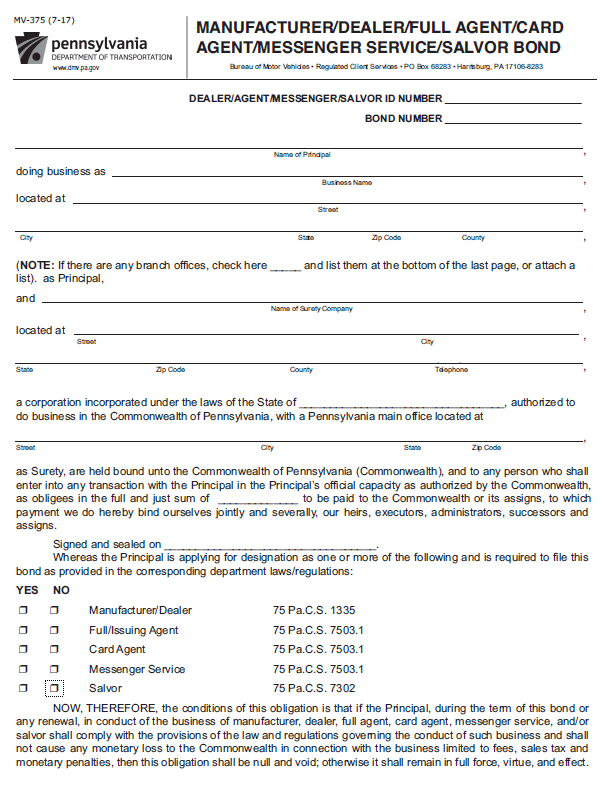 Background
Pennsylvania Statute 19.1 mandates auto dealers operating in the state to obtain a motor vehicle dealer license with the DOT. The Pennsylvania legislature enacted the license and regulations to ensure that dealers engage in ethical business practices and remit required taxes and fees. In order to provide financial security for the enforcement of the license law, dealers must purchase and maintain either a $20,000 or $30,000 motor vehicle dealer surety bond to be eligible for licensure.
What is the Purpose of the Pennsylvania Auto Dealer Bond?
Pennsylvania requires dealers to purchase the Motor Vehicle Dealer Bond as part of the application process for the Motor Vehicle Dealer License. The bond ensures that the public will receive compensation for financial harm if the auto dealer fails to comply with the licensing regulations and that the dealer will pay all required taxes and fees to the State of Pennsylvania. In short, the bond is a type of insurance that protects the public if the dealer breaks licensing laws.
How Can an Insurance Agent Obtain a Pennsylvania Auto Dealer Bond?
BondExchange makes obtaining a Pennsylvania Auto Dealer Bond easy. Simply login to your account and use our keyword search to find the "auto dealer" bond in our database. Don't have a login? Gain access now and let us help you satisfy your customers' needs. Our friendly underwriting staff is available by phone (800) 438-1162, email, or chat from 7:30 AM to 7:00 PM EST to assist you.
At BondExchange, our 40 years of experience, leading technology, and access to markets ensure that we have the knowledge and resources to provide your clients with fast and friendly service whether obtaining quotes or issuing bonds.
Not an agent? Then let us pair you with one!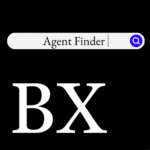 Click the above image to find a BX Agent near you
How Much Does the Pennsylvania Auto Dealer Bond Cost?
The $30,000 Pennsylvania Motor Vehicle Dealer surety bond can cost anywhere between $125 to $2,250 per year or $13 to $225 per month. Insurance companies determine the rate based on a number of factors including your customer's credit score and experience. We also offer easy interest-free financing for premiums over $500. The chart below offers a quick reference for the approximate bond cost on the $30,000 bond requirement.

$30,000 Pennsylvania Auto Dealer Bond Cost
| Credit Score* | Bond Cost (1 year) | Bond Cost (1 month) |
| --- | --- | --- |
| 749+ | $125 | $13 |
| 699 – 748 | $160 | $16 |
| 675 – 698 | $180 | $18 |
| 660 – 674 | $191 | $20 |
| 649 – 659 | $285 | $29 |
| 629 – 648 | $450 | $45 |
| 619 – 628 | $639 | $64 |
| 600 – 618 | $960 | $96 |
| 580 – 599 | $1,398 | $140 |
| 570 – 579 | $1,800 | $180 |
| 550 – 569 | $2,100 | $210 |
| 500 – 549 | $2,250 | $225 |
*The credit score ranges do not include other factors that may result in a change to the annual premium offered to your customers, including but not limited to, years of experience and underlying credit factors contained within the business owner's credit report.
How Does Pennsylvania Define "Motor Vehicle Dealer"?
To paraphrase Pennsylvania Statute 301.1, a motor vehicle dealer is any person or business entity who buys, sells, or exchanges motor vehicles either directly or indirectly.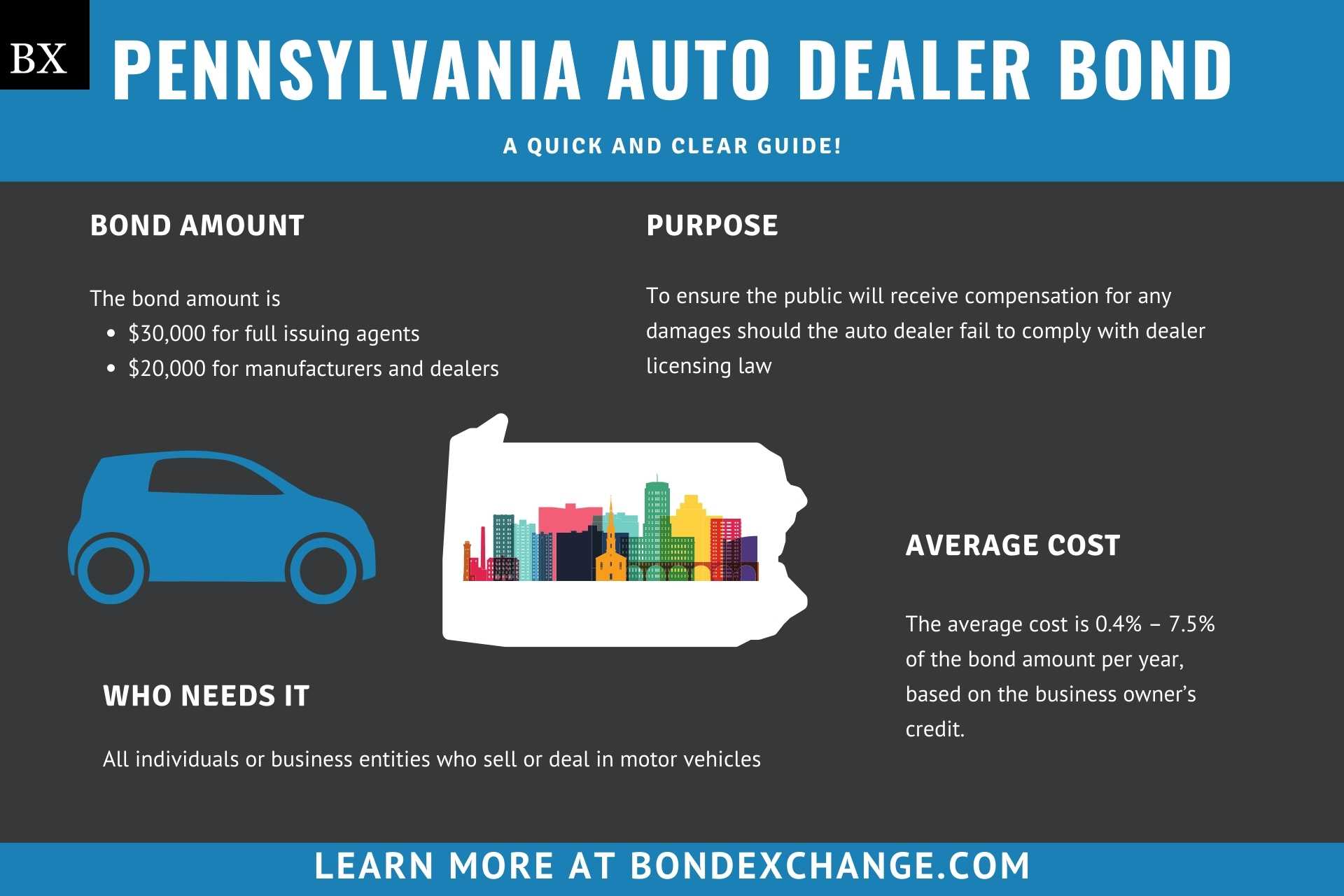 BondExchange now offers monthly pay-as-you-go subscriptions for surety bonds. Your customers are able to purchase their bonds on a monthly basis and cancel them anytime. Learn more here.
How Do Auto Dealers Apply for a License in Pennsylvania?
Dealers in Pennsylvania must navigate several steps to secure their motor vehicle dealer license. Below are the general guidelines, but dealers should refer to the Dealer Requirements Packet for details on the process.
License Period – The Pennsylvania Dealer License expires on May 31 of each odd-numbered year (2021, 2023, etc) regardless of the date of issuance and must be renewed before the expiration date.
Step 1 – Determine the License Type
Pennsylvania requires dealers to obtain specific licenses corresponding to the nature in which the dealer's business operates. Keep in mind that dealers will need to acquire a license for each type of business they wish to operate. Below are the different types of the Pennsylvania Dealer License.
***The remaining steps in this article will cover how to obtain the Dealership License. Readers can click on the license type to view the application form for each specific dealer license.***
Step 2 – Establish a Location
Before dealers can obtain their dealer license they must first buy or lease a permanent business location. The location must meet the following requirements:
Is separate from all other businesses
Has a display area that is capable of showcasing at least 5 motor vehicles with their doors open. Dealers who sell RVs or manufactured homes must have a display area of at least 5,000 square feet.
Display area must be separate from customer and employee parking areas
Enclosed office with at least one desk and a lockable filing cabinet
Telephone registered in the business's name
A permanently affixed sign displaying the business's name
Posts the hours of operation
Step 3 – Obtain Zoning Approval
Dealers must obtain written approval from their local zoning authority certifying their business location is in compliance with all applicable zoning ordinances. Dealers should submit this written approval with their application.
Step 4 – Purchase a Surety Bond
Dealers must purchase and maintain either a $20,000 or $30,000 motor vehicle dealer surety bond. For dealers with more than one location, the bond amount will increase based on the number of locations.
Step 5 – Complete the Application
All dealer regulatory license applications can be completed online here. Dealers must complete the application in its entirety and submit the following items:
5.a Pictures – Dealers must submit pictures of their entire business location with their application, including the inside of the office. Dealers must also submit a hand-drawn diagram on 8.5 x 11-inch paper showing the layout of the entire business location. The dealer must sign and date the diagram.
5.b Deed/Lease – Dealers are required to submit a copy of either their deed or lease agreement for their business location with their application
5.c Telephone Bill – Dealers must submit a telephone bill or letter of installation from a phone company with their application
5.d Certificate of Occupancy – Dealers will need to obtain a Certificate of Occupancy from the Pennsylvania

Department of Labor and Industry

and submit a copy of this certificate with their application
5.e Resume – Each person listed on the application must submit a resume of their business endeavors over the past 5 years
5.f Salesperson Application – All applicants must submit a

Salesperson License Application

for each salesperson employed by the dealership. Sole proprietors cannot apply for a Salesperson License.
5.g Background Check – Dealers must request a

background check

from the Pennsylvania State Police
5.h Business Documents – Dealers must submit either their articles of incorporation or registration with their application. All Pennsylvania businesses must be registered with the Pennsylvania

Secretary of State

.
5. i Repair Services – Dealers are required to submit a statement with their application verifying they will provide transportation, installation, and repair services. Dealers who are unable to provide these services will need to affirm that they will make a list of companies that provide these services available to their customers.
5.j Franchise Agreement – Dealers selling new motor vehicles must submit a franchise agreement with their application authorizing them to sell each make and model of new motor vehicle
Step 6 – Pay Fees
Dealers must pay a $65 initial licensure fee when submitting their application
Step 7 – Pass Inspection
After the dealer has submitted their application, a representative from the DOT will conduct an inspection of the dealer's business location to ensure that the location complies with all the requirements outlined in Step 2.
How Do Pennsylvania Auto Dealers Renew Their License?
The Pennsylvania Dealer License expires on May 31 of each odd-numbered year (2021, 2023, etc) regardless of the date of issuance and must be renewed before the expiration date. Dealers should receive a renewal notice prior to their license expiration date containing instructions on how to renew their license. Dealers should mail their renewal application to the following address:
Vehicle Board
PO Box 2469
Harrisburg, PA 17105
What Are the Insurance Requirements for the Pennsylvania Auto Dealer License?
The State of Pennsylvania does not require dealers to maintain any form of liability insurance.
How Do Pennsylvania Auto Dealers File Their Bond?
Dealers should mail the completed bond form, including the power of attorney, to the following address:
Bureau of Motor Vehicles
Regulated Client Services
PO Box 68283
Harrisburg, PA 17106-8283
The surety bond requires signatures from both the surety company that issues the bond and the auto dealer. The bond form will require the following items:
Legal name and address of entity/individual(s) buying the bond
Surety company's name, address, and phone number
Bond amount
Dealer license type
Date the bond is signed
How Can Pennsylvania Auto Dealers Avoid Bond Claims?
To avoid claims on the Motor Vehicle Dealer Bond, dealers must follow all dealer regulations in the state, including some of the most important issues below that, tend to cause claims:
Do not engage, or allow representatives of the business to engage, in any acts of fraud
Pay sellers of vehicles promptly and in full
Transfer all vehicle titles when sold
Do not engage in any illegal selling practices
What Other Insurance Products Can Agents Offer Dealers in Pennsylvania?
Pennsylvania does not require dealers to obtain any form of liability insurance, however, most reputable dealers will obtain insurance anyway. Bonds are our only business at BondExchange, so we do not issue any form of liability insurance, but our agents often utilize brokers for this specific line of business. A list of brokers in this space can be found here.
How Can Insurance Agents Prospect for Pennsylvania Auto Dealer Customers?
Pennsylvania unfortunately does not display motor vehicle dealer information to the public. We suggest contacting a list service company or the Pennsylvania Secretary of State for a list of active motor vehicle dealers. Contact BondExchange for additional marketing resources. Agents can also leverage our print-mail relationships for discounted mailing services.
What Other States Require Auto Dealer Bonds?
All 50 states and the District of Columbia require auto dealers to obtain an Auto Dealer Bond as a prerequisite for licensure. Insurance agents should utilize our Main MVD Page for a detailed analysis of the Auto Dealer Bond requirements nationwide.