Understanding Indemnity Agreements
August 23, 2021
Surety bonds are subject to indemnification, meaning that the principal (your customer) is required to repay the surety company for all claims and claims handling expenses. Surety bonds are unique from other types of insurance, and the indemnity aspect of these bonds can potentially throw off agents (and their customers) when dealing with it for the first time. Oftentimes agents will find that their customers expect them to be a walking encyclopedia of industry knowledge. While you may not always have the right answers, your customers will have questions, and what makes good agents great is the desire to continually expand their knowledge about the products they offer. To help agents better explain indemnification to their customers, we have put together this comprehensive guide to why surety bonds are subject to indemnification, providing insurance agents with everything they need to know about indemnity agreements.
What is Indemnification?
Indemnification is the legal requirement for principals to repay to the surety company all losses sustained (direct losses, claims handling expenses, legal fees, etc) as a result of valid bond claims. All surety bonds are subject to indemnification, so even though your customer pays premium on their bond, they are not exempt from repaying the surety for losses incurred due to valid claims.
What are Indemnity Agreements?
Indemnity agreements are the actual contracts, signed by the principal, that dictate the terms for indemnification. Think of indemnification as a central characteristic of surety bonds, and indemnity agreements as the contracts that put indemnification into practice. Indemnity agreements vary depending on the bond size, type of bond and volume of bonds the principal may need, as outlined below:
Corporate
The corporate entity applying for bonding is liable to repay the surety company for all claims and claims handling expenses. When a claim is made against a bond, only the business's assets are required to be used for repayment. Corporate Indemnity is most commonly required in tandem with personal indemnity; however, corporations with strong financial standing may be able to qualify on their own.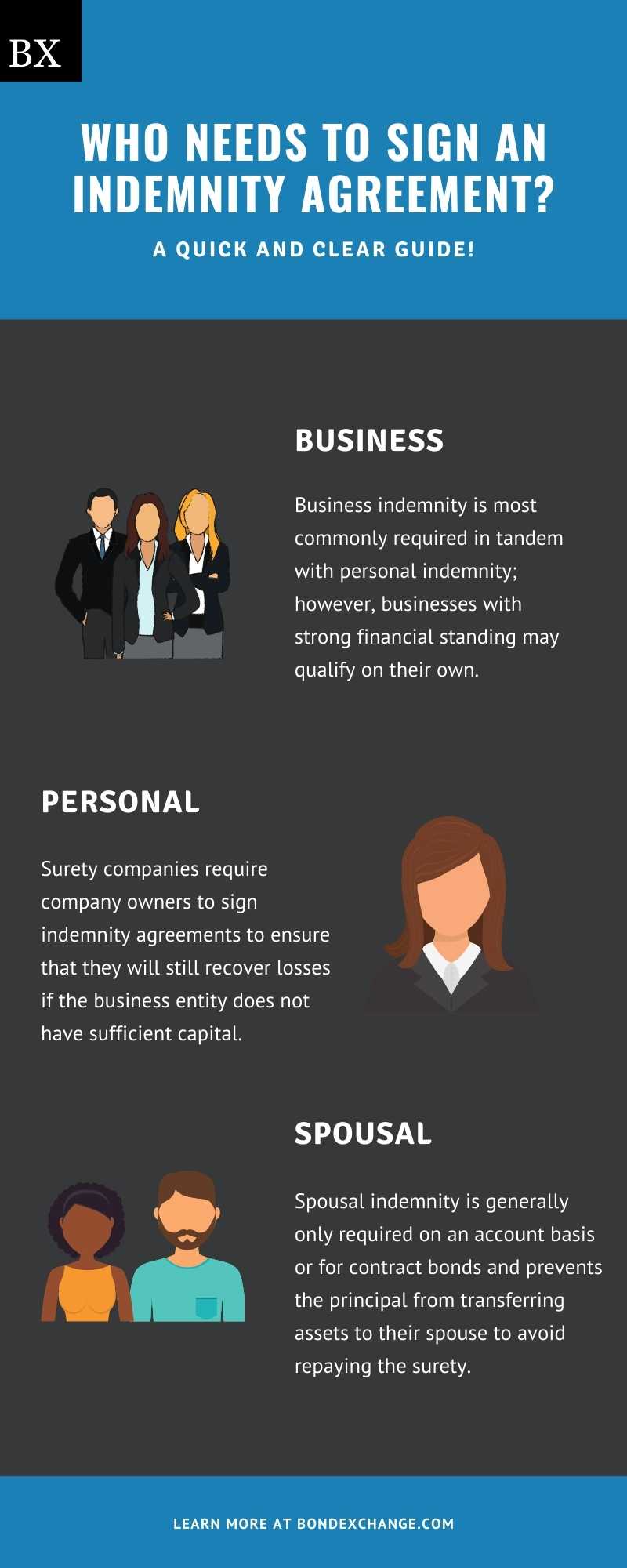 Personal
Indemnity agreements will almost always require personal guarantees from all company owners with a 10% stake or higher. Surety companies will require company owners to sign indemnity agreements to ensure that they will still recover losses if the business entity does not have the capital necessary to repay bond claims.
Spousal
In certain instances, surety companies will require the spouses of all bond principals to sign an indemnity agreement. Married couples generally share the same assets, and if a principal is unable (or unwilling) to repay the surety company for claims expenses, they may be tempted to transfer their assets into their spouses name to prevent the surety company from seizing them during any legal proceedings. Requiring spousal indemnity agreements prevents this from happening, and better ensures the surety company will not suffer losses. Spousal indemnity agreements are only required on an account basis or for contract bonds.
Your customers may be apprehensive about indemnity agreements, especially ones that hold their spouses liable. To help overcome this apprehension, reiterate to your customers that claims made against surety bonds are completely avoidable, and will only occur if they act unethically. Remember, surety bonds are essentially lines of credit, and as with all other forms of credit your customers will need to repay any and all credit used.
Why do Surety Companies Require Indemnity Agreements?

Surety companies require indemnity agreements to ensure that they do not suffer a financial loss due to valid claims. This is the part that typically trips up most agents. Why are surety companies able to circumvent losses resulting from claims? Because unlike other lines of property and casualty insurance, claims made against a surety bond are completely avoidable and will only occur if the principal violates the provisions laid forth in the bond form. Surety bonds provide protection for the obligee, and act as a line credit extended to the principal by the surety . Surety companies guarantee that the obligee will receive payment up to the full bond amount for valid claims filed against the principal. Ultimately, the principal is required to cover the cost of the claims and claims handling expenses because valid claims can only occur as a direct result of their actions.
Types of Indemnity Agreements:
Standard Application (Click Image to View)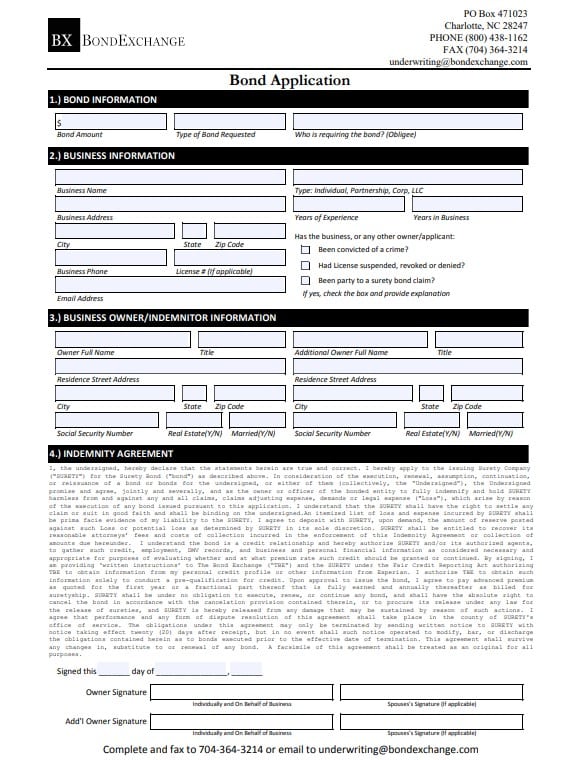 Long Form (Click Image to View)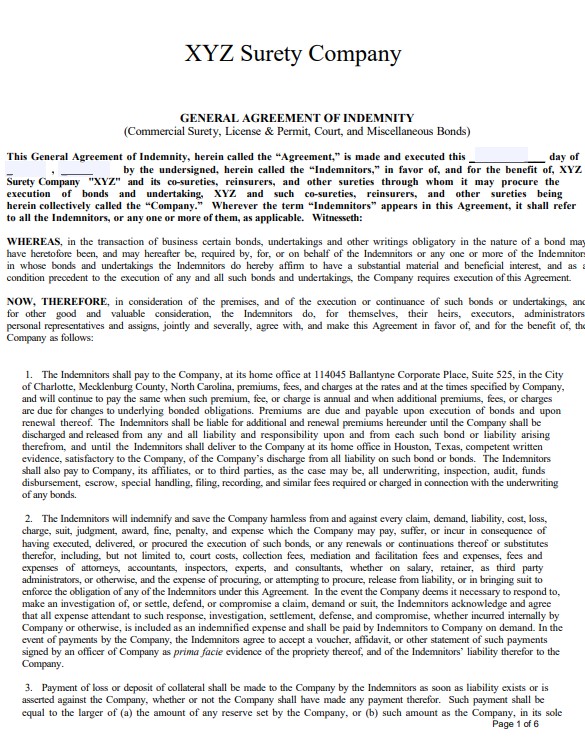 Contract Bond (Click Image to View)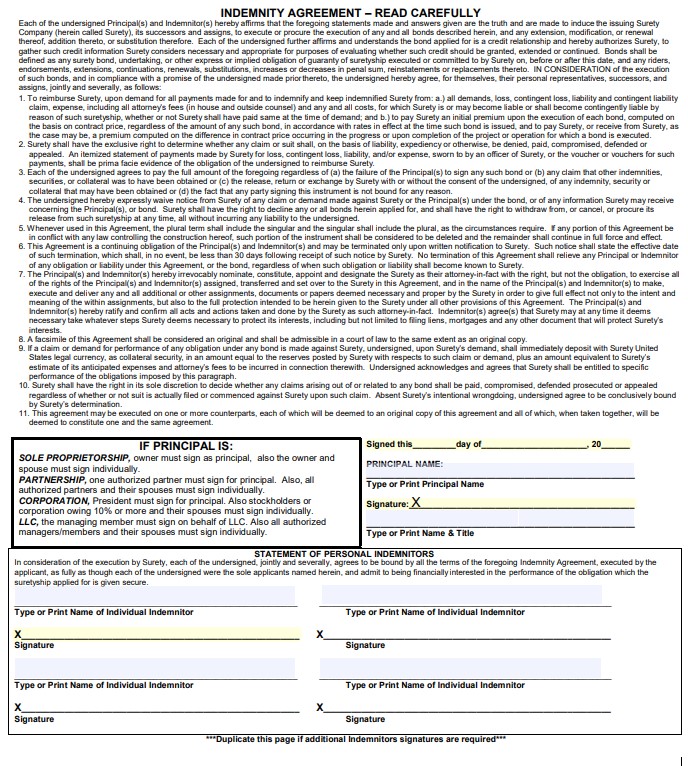 Do all Surety Bonds Require Indemnity Agreements?
No, surety bonds that are not subject to underwriting requirements will not require an indemnity agreement. Essentially, bonds that are considered low risk enough to be issued without a credit check won't contain an indemnity agreement. However, even if no indemnity agreement is signed the bond is still subject to indemnification, the surety company just won't be able to claim the individuals personal (with some exceptions) and spousal assets. To further clarify, all surety bonds are subject to indemnification, as they are essentially an extension of credit offered by the surety company. Indemnity agreements simply outly which parties and assets may be used to repay bond claims, but don't actually create the indemnification requirements for surety bonds.
How can Your Customers Sign Indemnity Agreements?
At BondExchange, we make the process of signing indemnity agreements quick and easy. Your customers will be able to sign their indemnity agreements electronically when purchasing their bond.
How Can an Insurance Agent Obtain a Surety Bond?

BondExchange makes obtaining a surety bond easy. Simply login to your account and use our keyword search to find your bond in our database. Don't have a login? Enroll now and let us help you satisfy your customers' needs. Our friendly underwriting staff is available by phone (800) 438-1162, email or chat from 7:30 AM to 7:00 PM EST to assist you.
At BondExchange, our 40 years of experience, leading technology, and access to markets ensures that we have the knowledge and resources to provide your clients with fast and friendly service whether obtaining quotes or issuing bonds.