Release of Lien Bond: A Comprehensive Guide
Having a lien placed against your customer's property can prevent them from selling the property or completing a construction project. Worst-case scenarios can even result in foreclosures. Release of Lien bonds allow your customers to shift the lien's liability away from their property, providing them with more time to respond to the lien, sell the property, or complete the project.
In this article, we explain what Release of Lien bonds are, how they work, and how insurance agents can efficiently obtain them for their customers.
What are They?
A release of lien bond, also known as a mechanic's lien or discharge of lien bond, is a surety bond that allows general contractors and property owners to remove liens against a property and transfer the liability to the bond. Subcontractors and suppliers that claim nonpayment for their work/materials can file liens against the property the project is located on, preventing contractors or property owners from transferring ownership of or selling the land until the lien is resolved. Contractors/property owners who purchase a Release of Lien bond can remove the lien, as the bond guarantees that the subcontractor or supplier will be compensated if their nonpayment claim is valid. To better illustrate how these bonds work, let's take a look at an example:
A general contractor hires a subcontractor to handle the electrical work on a construction project. After completing the work, the subcontractor alleges they have not received their full payment, so they file a lien against the property. The owner of the property then goes to court and is granted permission to purchase a Release of Lien bond to remove the lien while the subcontractor's claim is examined.
How Do They Work?
Release of Lien bonds shift the payment liability from the property the lien is placed against to the surety company. Most states have lien rights laws that allow subcontractors, laborers, or material suppliers to file liens against a property until they have been paid for work they performed on it. Liens must be filed in a court of law, and contractors/property owners must also file their bonds in court. We highly recommend that your customers consult with an attorney before filing a request to purchase a bond.
It is important to note that Release of Lien bonds do not release your customers from any payment obligations, but instead stipulate that if the lienholder's claim is valid, they will be paid out by the surety company issuing the bond as opposed to receiving payment directly from a property owner, contractor, or the proceeds generated from the foreclosure and sale of your customer's property. Additionally, your customers must repay the surety for all valid claims and claims handling expenses.
How is the Limit Determined on a Release of Lien Bond?
Release of Lien bond limits are determined based on statutes written by state legislatures. 48 states allow Release of Lien bonds (New Hampshire and Vermont don't), and the court where the initial lien was filed will inform your customer of their required bond amount after their request to file a bond has been approved.
Click on the below link for a list of Release of Lien bond limits by state.
What are the Underwriting Requirements for Release of Lien Bonds?
When determining your customer's eligibility for a Release of Lien bond, surety companies will review your customer's general business information as well as all court documents related to the lien.
How Much do Release of Lien Bonds Cost?
Release of Lien bonds will typically cost 1% of the bond amount and will require 100% collateral.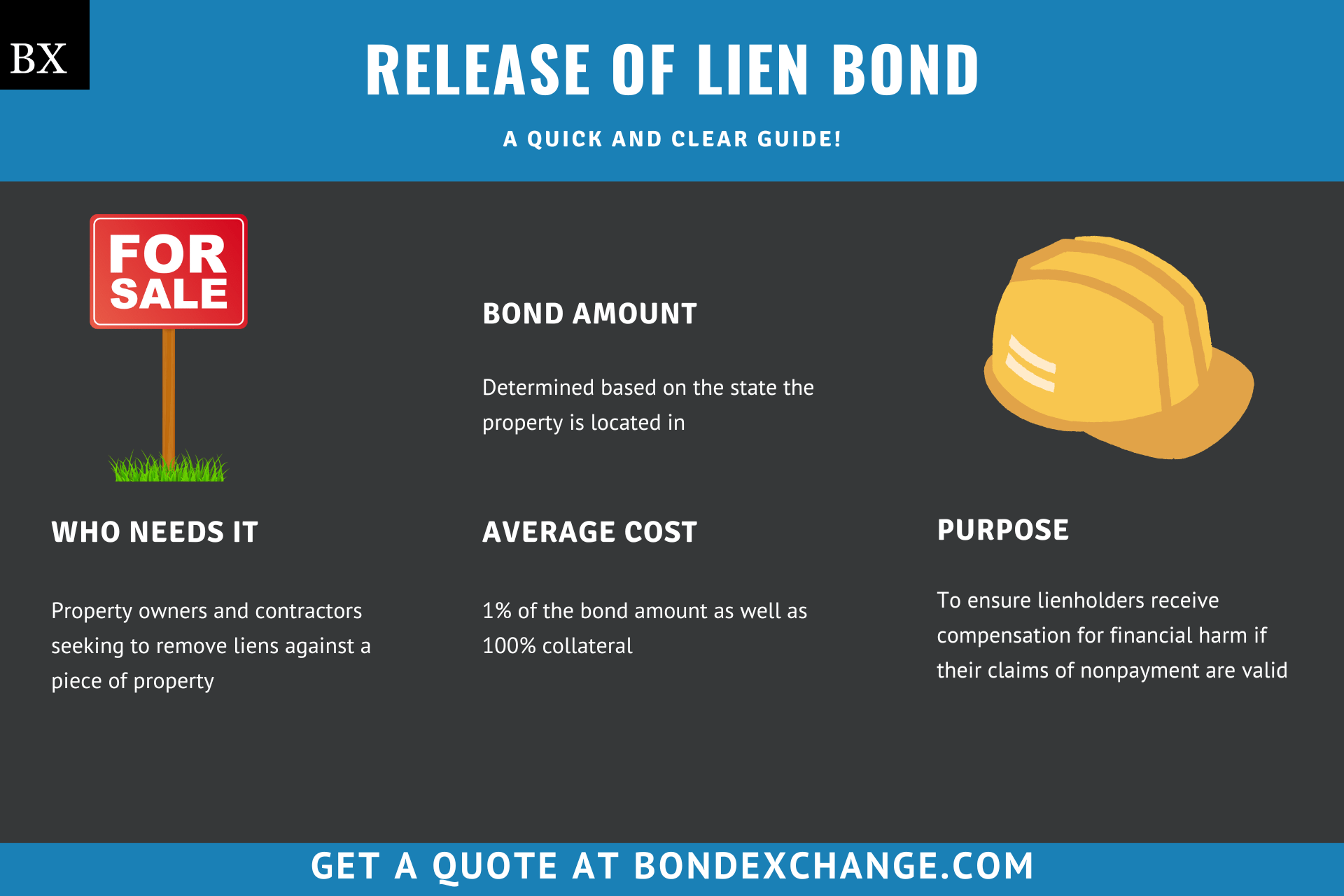 Who Benefits From Release of Lien Bonds?
Release of Lien bonds benefit both your customers and the persons filing liens against their property. Your customers stand to benefit from these bonds as they allow them to regain complete control of the property and buy them additional time to settle the dispute with the lienholder. Some construction contracts also contain provisions requiring general contractors to obtain a bond if a lien is placed on the property. Lienholders benefit from these bonds because the claims process is simplified. Instead of waiting for a court judgment and the potential foreclosure and sale of the property, lienholders can simply file a claim against the bond if the claim is valid.
When can Liens Not be Filed?
Liens cannot be filed on publicly funded construction projects. However, subcontractors and suppliers can still file claims against payment bonds. Additionally, many GCs will include provisions in all subcontractor and supplier contracts stating that no liens may be filed against the property. We recommend advising your customers to include these provisions in all of their contracts if they aren't already doing so.
The Bottom Line
Active liens significantly impact your customers' ability to sell or modify their property. Purchasing a bond when a lien is placed against them restores your customers' full ownership rights while the payment claim is litigated.
BondExchange makes obtaining a Release of Lien bond easy. Simply login to your account and use our keyword search to find the "Lien" bond in our database. Don't have a login? Gain access now and let us help you satisfy your customers' needs. Our friendly underwriting staff is available by phone (800) 438-1162, email or chat from 7:30 AM to 7:00 PM EST to assist you.
At BondExchange, our 40 years of experience, leading technology, and access to markets ensures that we have the knowledge and resources to provide your clients with fast and friendly service whether obtaining quotes or issuing bonds.
Not an agent? Then let us pair you with one!

Click the above image to find a BX Agent near you