Why are Some States Increasing Bond Limits?
June 28, 2022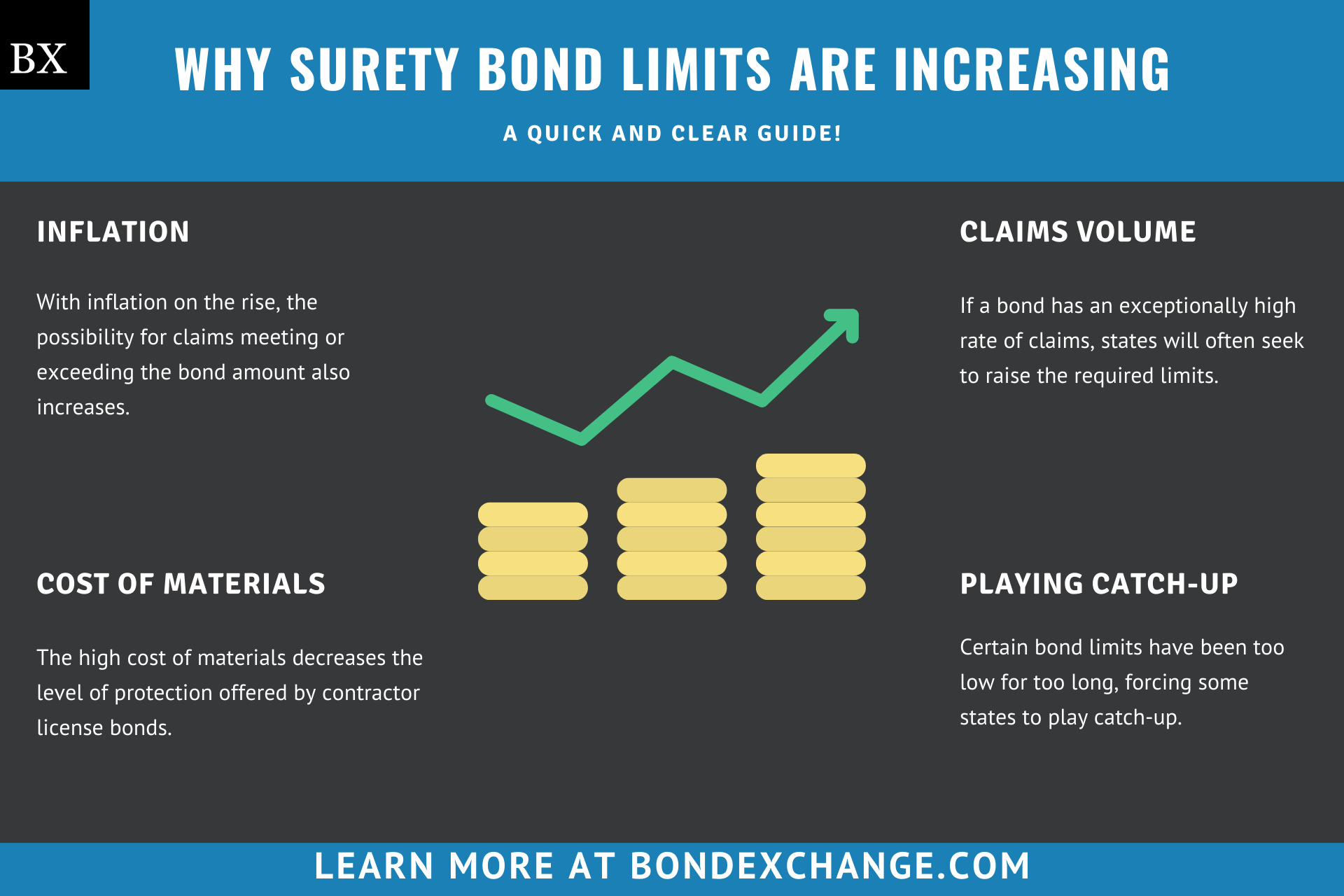 Have you ever wondered how surety bond limits are determined? Let's be honest here; probably not, but we're going to tell you anyway, as limit increases can significantly impact your customers. Legislative bodies (state legislatures and congress) set most bond amounts, or at the very least, grant other government agencies the authority to do so. Now, state legislatures across the country are reevaluating the required limits on certain types of bonds. It's normal for states to raise limits from time to time. However, certain external factors (i.e., inflation) seem to be causing states to increase limits at a more accelerated rate.
This article explains why some states are increasing bond limits, how these changes affect your customers, and why you should expect more states to follow suit.
Why are Surety Bond Limits Increasing?
We believe that there are multiple factors causing states to raise bond limits, such as:
Inflation
Inflation is the decrease in purchasing power of a currency over a measured period of time and is most often reflected in price increases. From May 2021 to May 2022, inflation increased by 8.6% nationally, representing the highest 12-month increase since December of 1981. So what does this have to do with surety bonds? Well, with inflation on the rise, the possibility for claims meeting or exceeding the bond amount also increases.
Think about it this way. As of May 2022, the prices of used cars are 42.5% above their projected normals. However, the limits on Auto Dealer bonds don't fluctuate with the market, and unless states pass laws raising the required limits, the level of financial protection offered to consumers decreases.
To put it simply, if inflation caused the price of a used car to rise from $20,000 to $25,000, and the dealer's bond limit remains the same at $20,000, then the consumer buying the vehicle has less recourse if they have to file a claim.
Cost of Materials
Rising material costs and inflation typically go hand in hand. However, the former of the two will have a more significant impact on contractor license bonds.
The cost of building materials is up by 4.9% since the beginning of 2022. As a result, consumers are spending more money on construction projects, as we're sure anyone who has had work done on their home in the past two years can attest. If legislatures don't increase contractor license bond amounts, consumers' ability to recover potential losses diminishes.
Claims Volume
If a bond has an exceptionally high rate of claims, states will often seek to raise the required limits. This is done for two reasons:
Offer increased protection to the obligee (entity requiring the bond), and
Heighten the barrier to entry. Generally speaking, the larger the bond the more stringent the underwriting requirements.
For example, to combat the practice of curb stoning, Alabama increased the required limit on all Auto Dealer bonds from $25,000 to $50,000.
States are Playing Catch-Up
Certain bond limits have been inadequate for far too long, and some states are playing catch-up by increasing limits to more appropriate amounts. Current inflation has exacerbated the issue; however, the ball has to drop and state legislatures are now gearing up and proposing increases to a myriad of surety bond requirements.
Notable Increases
The following bonds either have had or are in the process of increasing their limits within the past two years.
Bond
Increase
Status
AL Auto Dealer
$25,000 to $50,000
Active
CA Contractor License
$15,000 to $25,000
Goes into effect Jan 1, 2023
CT Auto Dealer
$50,000 to $60,000
Goes into effect Jan 1, 2023
CT General Repairer
$5,000 to $25,000
Goes into effect Jan 1, 2023
CT Limited Repairer
$5,000 to $10,000
Goes into effect Jan 1, 2023
CT Leasing
$10,000 to $15,000
Goes into effect Jan 1, 2023
CT Mortgage Broker/Lender
$25,000 to $50,000
Goes into effect Jan 1, 2023
HI Third Party Administrator
$100,000 to $300,000 after the third year
Pending
MA Auto Dealer
$25,000 to $50,000
Pending
NY Towing Services

$5,000 – $25,000 to
$25,000 – $100,000

Pending
TX Auto Dealer
$25,000 to $50,000
Active
WV License Service Provider
$25,000 to $100,000
Pending
*The above table does not reflect the total number of bond increases that have taken place within the past two years but instead includes popular bonds that may affect your customers. 
How Do Limit Increases Impact Your Customers?
The impact a limit increase will have on your customers depends on the type of bond in question. If your customer's bond increases, they will probably have to pay more premium to account for the higher limit. Additionally, most surety companies have stricter underwriting guidelines for bonds with limits of $50,000 or more. If your customer's bond limit has risen to $50,000 or more, they may have to submit personal and business financial statements to qualify for their bond.
Obligees often require your customers to submit a new bond at their next license renewal date. However, some obligees will require your customers to submit riders to their existing bonds. If you obtained your customer's bond through BondExchange, we'll take care of this for you. We can't promise that other surety brokers will do the same.
Why More States May Raise Limits
To be clear, this article doesn't suggest that every state in the nation will increase the limit on every bond. However, states will frequently follow in each other's footsteps when passing legislation. Additionally, the current inflationary environment is putting pressure on legislatures, particularly in states with lower-tier limits, to increase limits to levels more aligned with the rest of the county.
The Bottom Line
State legislatures are currently playing catchup to raise bond limits to amounts that more accurately reflect the level of financial protection that obligees need. With inflation, the cost of materials, and claims volume on certain bonds rising, your customers should prepare for the possibility of their bond limits increasing.
At BondExchange, we make obtaining surety bonds easy. If any of your customers need changes made to their bonds, our dedicated team of surety professionals will make meeting any new requirements as smooth as possible.
How Can an Insurance Agent Obtain a Surety Bond?

BondExchange makes obtaining a surety bond easy. Simply login to your account and use our keyword search to find your bond in our database. Don't have a login? Enroll now and let us help you satisfy your customers' needs. Our friendly underwriting staff is available by phone (800) 438-1162, email or chat from 7:30 AM to 7:00 PM EST to assist you.
At BondExchange, our 40 years of experience, leading technology, and access to markets ensures that we have the knowledge and resources to provide your clients with fast and friendly service whether obtaining quotes or issuing bonds.