August 25th, 2020
New Opportunity for Alabama Insurance Agents – Auto Dealer Bond Increases to $50,000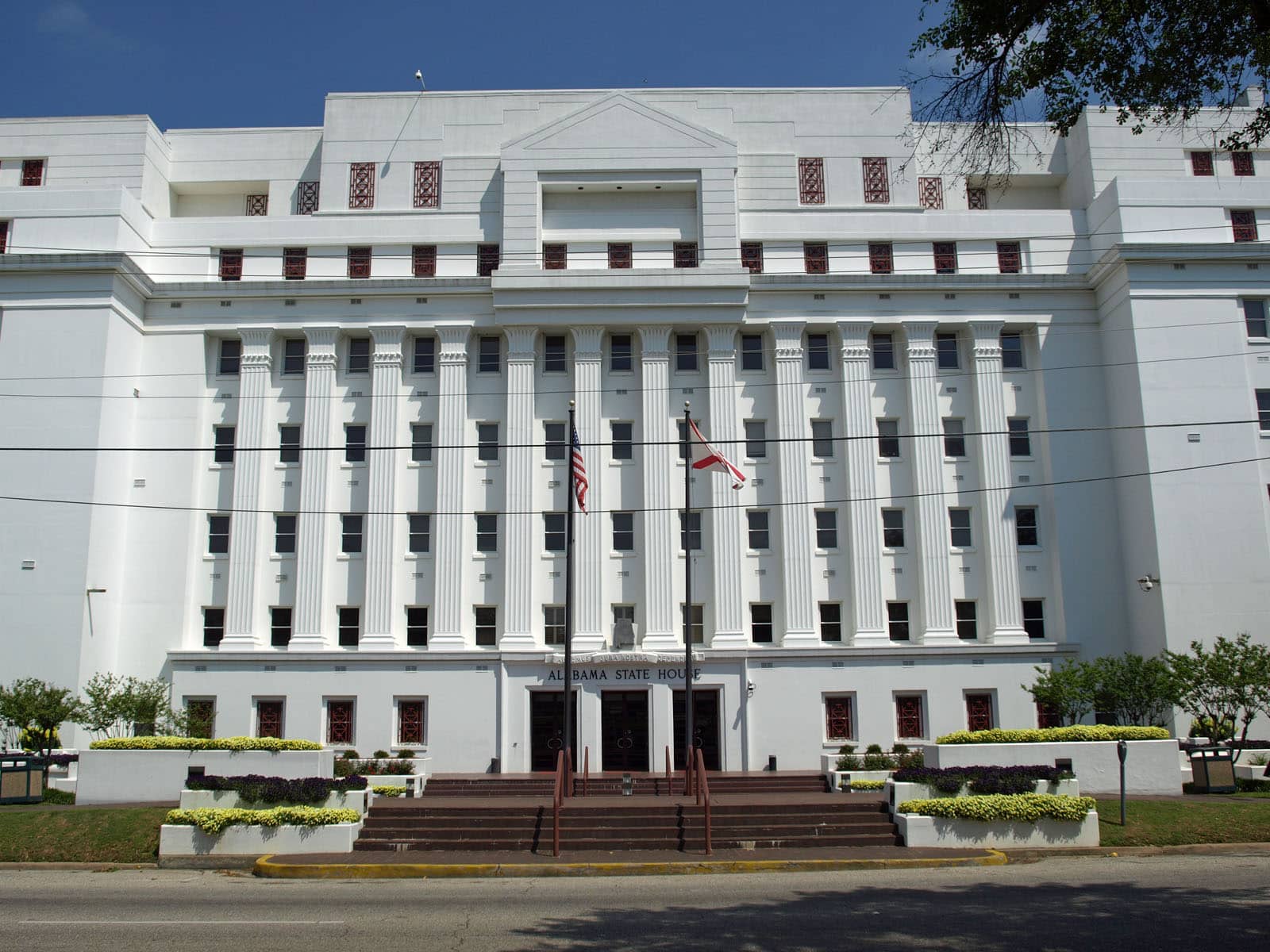 In an effort to combat Motor Vehicle Dealers from illegally selling faulty vehicles by acting as private sellers, a practice known as curbstoning, Alabama has passed House Bill 393 which increases the surety bond requirement from $25,000 to $50,000. The new regulations present insurance agents in Alabama with a unique opportunity to engage with existing customers and solicit new customers that need to increase the amount of their bond.
What are the New Regulations?
To buy, sell, advertise, or negotiate the sale of a motor vehicle in Alabama requires businesses to obtain the newly created Master Dealer License. This new license is a combination of four previous licenses:
New Dealers
Used Dealers
Wholesale dealers
Rebuilders
Dealers seeking to obtain this license must first present a Master Dealer surety bond with a limit of $50,000 to the State Commissioner of Revenue, who will then determine whether the applicant qualifies for the Master Dealer License. Once obtained, the Master Dealer License is active for one year, and must be renewed by October 1st of each corresponding year. Selling a vehicle in the state of Alabama is illegal for anyone other than a licensed motor vehicle dealer, a lienholder, owner, or person appointed as the attorney-in-fact. Violations of the law can result in fines as well as impoundment of illegally sold vehicles by the state.
Why is this Good News for Insurance Agents?
Put simply, the bond amount has doubled, effectively doubling the premium opportunity for insurance agents. While most insurance agents may be unprepared or unaware of the insurance requirement change, BondExchange is prepared to give your agency an edge on the competition. The new Master Dealer License is available to quote on our website now and we have secured the best rates for this bond in the country. If you are unfamiliar with all the intricacies of licensing requirements for auto dealers, or simply do not have the bandwidth to examine 34 pages of regulatory reform, don't worry because we've got you covered.
How Can Alabama Insurance Agent's Dealers Purchase the Master Dealer Surety Bond?
If you are seeking to provide customers with these required bonds, then let our team at BondExchange help you satisfy your customers' needs. Simply login to and use our keyword search to find the "master dealer" license in our database. Most bonds will be quoted instantly on our website and the quote can be delivered to your customer with a link to purchase the bond online. If you prefer, you can even send the application to your customer to complete the process "soup-to-nuts" on the website, your agency receives email updates as the customer receives a quote and purchases the bond. With over 40 years of experience issuing surety bonds, we have the knowledge and resources at our disposal to provide each client with a personalized approach to ensure that they receive the best possible service when obtaining a quote or issuing their bond
What if my Customer Already Has a $25,000 Bond?
The new bond requirements go into effect on October 1st, so if your customer already has an active bond with us, don't worry because your bond is still valid up until that date. We will; however, need to cancel the existing bond and issue an updated bond that meets the new regulations. We will handle all the heavy lifting in terms of underwriting and pricing requirements, and your customer will be offered a prorated rate for the new bond. Our team of underwriters are already hard at work updating bond agreements with all existing clients.
How Much Does the $50,000 Alabama Master Dealer License Cost?
The general pricing terms for the Alabama Master Dealer License surety bond at the increased limit of $50,000 are as follows. Multi-year terms and payment plans are available for most customers: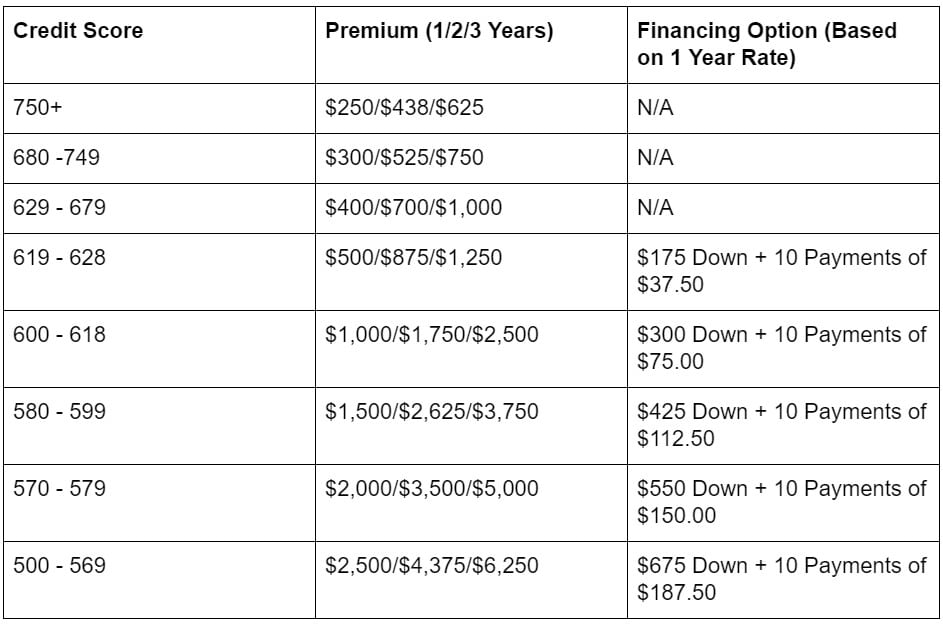 *The credit score ranges do not include other factors that may result in a change to the annual premium offered to your customers, including but not limited to, years of experience and underlying credit factors contained within the business owner's credit report.
What Other Insurance Opportunities Exist for Alabama Auto Dealers?
Insurance Agents have the opportunity to assist clients in obtaining garage liability insurance to ensure they are in compliance with state regulations. New and used dealers, wholesalers, and rebuilders are required to purchase and maintain blanket garage liability insurance in the following minimum amounts:

$25,000 bodily injury/person/accident

$50,000 combined bodily injury/accident

$25,000 property damage/accident or a combined single limit of $75,000/accident
Proof of insurance is required to be approved for a license. Dealers who do not maintain blanket garage liability insurance can be charged a $5,000 fine, with the surety bond subject to payment. There are strict penalties in place for Auto Dealers who either choose not to acquire a Master Dealers License, or do not renew their license each year. An initial fine of $500 and subsequent fines of $1000 will be issued to dealers who fail to follow the licensing guidelines. 
What Other Changes Were Made to Alabama Dealer Law?
The new law modifies the number of dealer license plates each licensed dealer can obtain and increases the application fee from $1.75 to $2.00 for each dealer plate. The adjusted dealer license plate guidelines limit dealer plates as follows:
Franchise Dealers: Total of 35 motorcycle and dealer plates 

Used Vehicle Dealers: Total of 5 motorcycle and dealer plates

All licensed new or used vehicle dealers who have completed 300 or more applications for title transfers in the previous regulatory year are eligible to purchase an additional 25 dealer and/or motorcycle dealer license plates.   
 A $200 fine will be levied against anyone who acquires a dealer plate without proper authorization, and subsequent fines of $500 will be issued for all repeat offenses.
Additionally, the new legislation requires all dealers seeking to conduct off-site sales to obtain an off-site sale license 10 days prior to the sale date. There is a $25 application fee associated with obtaining this license. All dealers who engage in the offsite sale are required to be listed on the license application, or face a civil penalty of $5,000.
How Do Alabama Dealers Renew their License?
All dealer regulatory license renewal applications must be filed electronically through the dealer license website – Motor Vehicle License.  
License renewal due by September 30th of each year.

Must renew by no later than October 31st of the subsequent license year to maintain a valid license.
How Can Insurance Agents Prospect for Alabama Motor Vehicle Dealer Customers?
The annual renewal requirement on September 30th of each year provides an opportunity for agents to solicit Alabama motor vehicle dealers. A list of Motor Vehicle dealers can be obtained free of charge online at Search Active/Revoked Licenses. Contact BondExchange for help developing a marketing piece. Agents can also leverage our print-mail relationships for discounted mailing services.
What Other States Require Auto Dealer Bonds?
All 50 states and the District of Columbia require auto dealers to obtain an Auto Dealer Bond as a prerequisite for licensure. Insurance agents should utilize our Main MVD Page for a detailed analysis of the Auto Dealer Bond requirements nationwide.