Financial Guarantee Bonds: A Comprehensive Guide
This guide provides information for insurance agents to help their customers obtain Financial Guarantee bonds
What is a Financial Guarantee Bond?
Financial Guarantee bonds are a category of surety bonds that ensure the principal (bonded party) will make payment to the obligee (usually a government agency). The term "financial guarantee" is used by surety underwriters to assign additional risk to surety bonds that contain some form of payment obligation. It is important to note; however, that surety bonds guaranteeing principal and interest payments on a loan are a separate category known as "financial guaranty" (more on this topic later).
Most financial guarantee bonds are government required and serve as a prerequisite for engaging in certain business practices. For example, businesses seeking to sell lottery tickets will need to purchase a Lottery Bond to ensure that all fees associated with the sale of lottery tickets are paid in full to the obligee.
Unlike most insurance products, surety bonds protect a third party known as an obligee. In the context of surety bonds with a financial guarantee, the obligee (individuals/entities who are due payment) is protected from late or missed payments. In addition, when the surety company suffers a loss due to the principal's actions, the principal must repay the surety company any losses and sometimes court costs and other fees.
Who is Required to Purchase a Financial Guarantee Bond?
As mentioned above, financial guarantee bonds cover a wide range of surety bond types. Essentially, if your customer needs a bond to ensure payments are made on a financial or tax obligation, then they most likely need a financial guarantee bond. Below are a few of the most common types of financial guarantee bonds:
Lottery Bonds
Sales and Use Tax Bonds
Alcohol and Cigarette Tax Bonds
Contractor Tax Bonds
Travel Agency Bonds
Freight Broker Bonds
Utility Deposit Bonds
Health Club Bonds
Union Wage and Welfare Bonds
Packers & Stockyards Bonds
Agricultural Products Dealer Bonds
Money Transmitter Bonds
Payday/Title Lender Bonds
Driver Training School Bonds
Post-Secondary School Bonds
Who Regulates Financial Guarantee Bonds?
Government agencies, either state or federal depending on the bond type, regulate financial guarantee bonds based on laws written at either the state or federal level. Governments enforce the law by instituting financial guarantees such as a surety bond. The surety bond ensures the obligee will be compensated if the principal fails to make payments.
What's the Difference Between Financial Guarantee vs Financial Guaranty?
Underwriters use the term "financial guarantee" to assign additional risk to any type of surety bond that has payment or tax obligations. To an underwriter, this means the bond should be carefully reviewed and most often quoted at a higher premium rate.
On the other hand, the term "Financial Guaranty Bond" refers to a specific type of surety bond that protects a lender if a borrower defaults on a loan. This type of bond is typically not available to private borrowers due in part to a New York state regulation known as the Appleton Rule that prohibits most U.S. insurance companies from offering this type of surety bond. In general, if your customer is asking for a bond to provide security on a loan obligation, the bond will not be available to U.S.-based companies.
How Much Does a Financial Guarantee Bond Cost?
Financial Guarantee bonds typically cost anywhere between 2% to 10% of the bond amount per year. Surety companies will examine factors such as your customer's credit score and financial statements when determining the premium rate. Principals with excellent credit, a history of profitability, and high liquidity can expect to receive the best rates. Principals with poor credit may be declined by some surety companies or pay higher rates. The credit check is a "soft hit", meaning that the credit check will not affect the principal's credit.
Do Surety Companies Offer Financing on Financial Guarantee Bonds?
Most financial guarantee bond premiums can be financed. To be eligible, the bond must have a cancellation provision in the bond form. Premium finance companies usually charge a finance fee and a high-interest rate to provide the financing. BondExchange offers in-house payment plans for bond premiums over $500. Our payment plans are interest-free and can be set up instantly online with a customer credit card and a few clicks. We offer this option automatically for bonds that meet the eligibility requirements.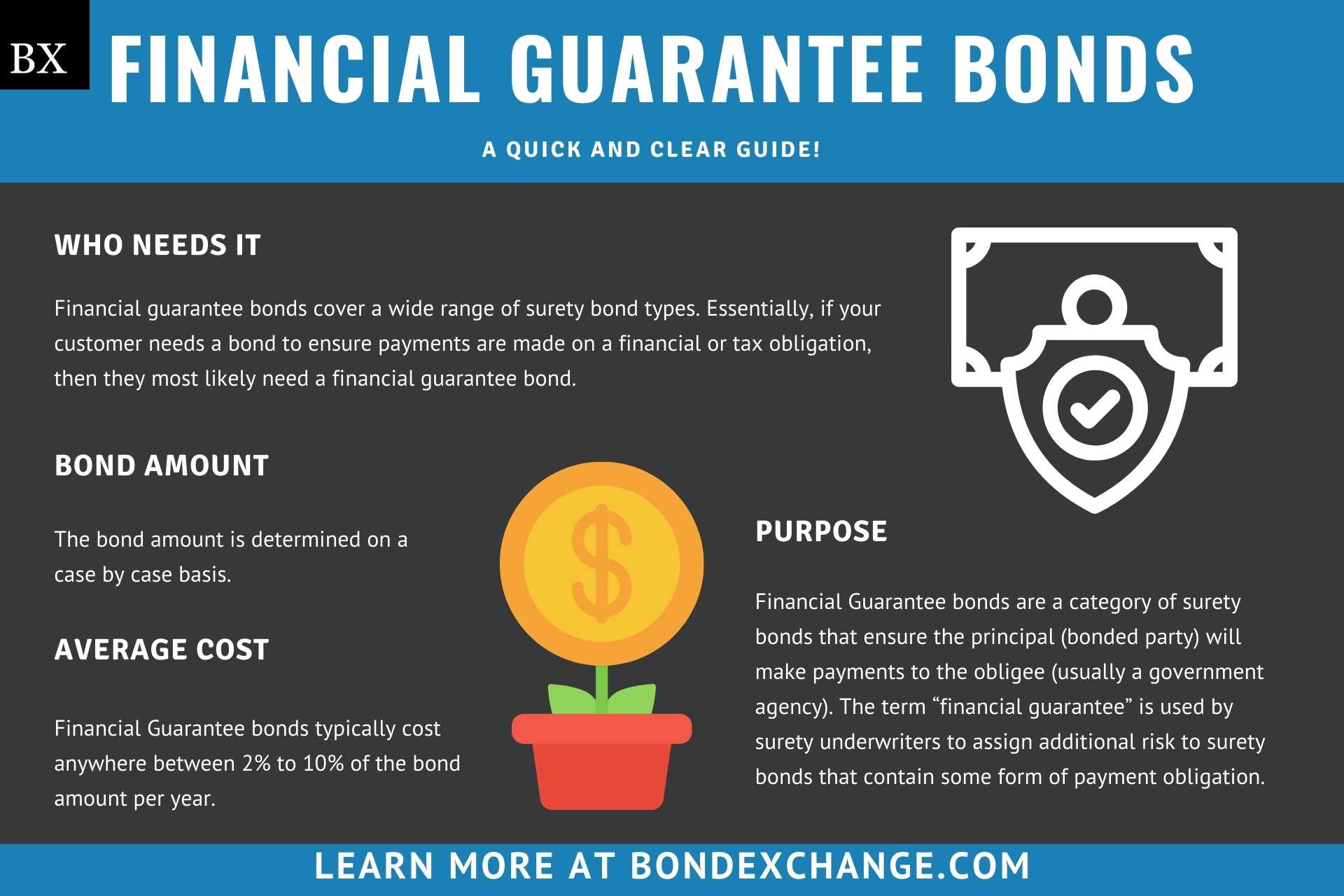 BondExchange now offers monthly pay-as-you-go subscriptions for surety bonds. Your customers are able to purchase their bonds on a monthly basis and cancel them anytime. Learn more here.
What Can Principals Do to Avoid Claims Against a Financial Guarantee Bond?
To avoid claims on a Financial Guarantee Bond, principals must make all required payments on a financial obligation on time and in full. For many tax related bonds, principals should also keep accurate records and file any tax filings on time to avoid problems with audits.
How Can an Insurance Agent Obtain a Financial Guarantee Bond?
BondExchange makes obtaining a Financial Guarantee Bond easy. Simply login to your account, select the state the bond is needed in and use our keyword search to find the "financial" bond in our database. Don't have a login? Gain access now and let us help you satisfy your customers' needs. Our friendly underwriting staff is available by phone (800) 438-1162, email or chat from 7:30 AM to 7:00 PM EST to assist you.
Not an agent? Then let us pair you with one!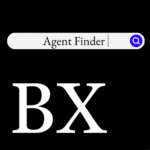 Click the above image to find a BX Agent near you