Notary Bond: A Comprehensive Guide
This guide provides information for insurance agents to help notaries obtain a Notary bond
What is a Notary Bond?
Notary bonds are government-required surety bonds that notaries must purchase to receive a notary commission. Notary bonds protect the public from financial harm resulting from violations of official duties committed by the notary.
Most states require notaries to purchase a surety bond as a prerequisite to receiving their notary commission and the bond must remain active for as long as the notary is commissioned.
Unlike most insurance products, surety bonds protect a third party (individuals/entities who need documents notarized) for acts that are violations of the law. When the surety company suffers a loss due to the notary's actions, the notary must repay to the surety company any losses and sometimes court costs and other fees.
What is a Notary?
A notary is a public official who ensures that the signer of important documents is who they claim to be, is aware of the document's content, and has not been pressured to sign the document under duress. Notaries are generally commissioned for a 4-6 year term by their state's Secretary of State. Notaries are official representatives of the state required to strictly adhere to written rules when performing their duties.
Who Regulates Notaries?
State government agencies (usually the Secretary of State) regulate notaries based on laws written by each state's legislature. Governments enforce the law by instituting commission requirements like notary education programs, examinations, background checks, and a surety bond. The surety bond ensures the public will be compensated if the notary fails to comply with the law.
How Much Does a Notary Bond Cost?
Notary bonds cost between $38 – $50 per commission period depending on the state where the notary is commissioned. Monthly subscription options are also available Notary bonds are considered low risk, so surety companies do not conduct a credit check or review the notary's financial statements before issuing a bond. The chart below contains the cost for notary bonds by state and includes free E&O insurance coverage if indicated:
How Does a Notary File Their Bond?
Surety bond companies will provide the notary with a completed surety bond to be filed with the relevant government agency. Most states require the original bond with a raised surety company seal to be filed by mail. Notaries should refer to their notary application instructions to determine when and how to file the bond. Most states will require the notary bond to be filed along with the notary application for the commission to be approved.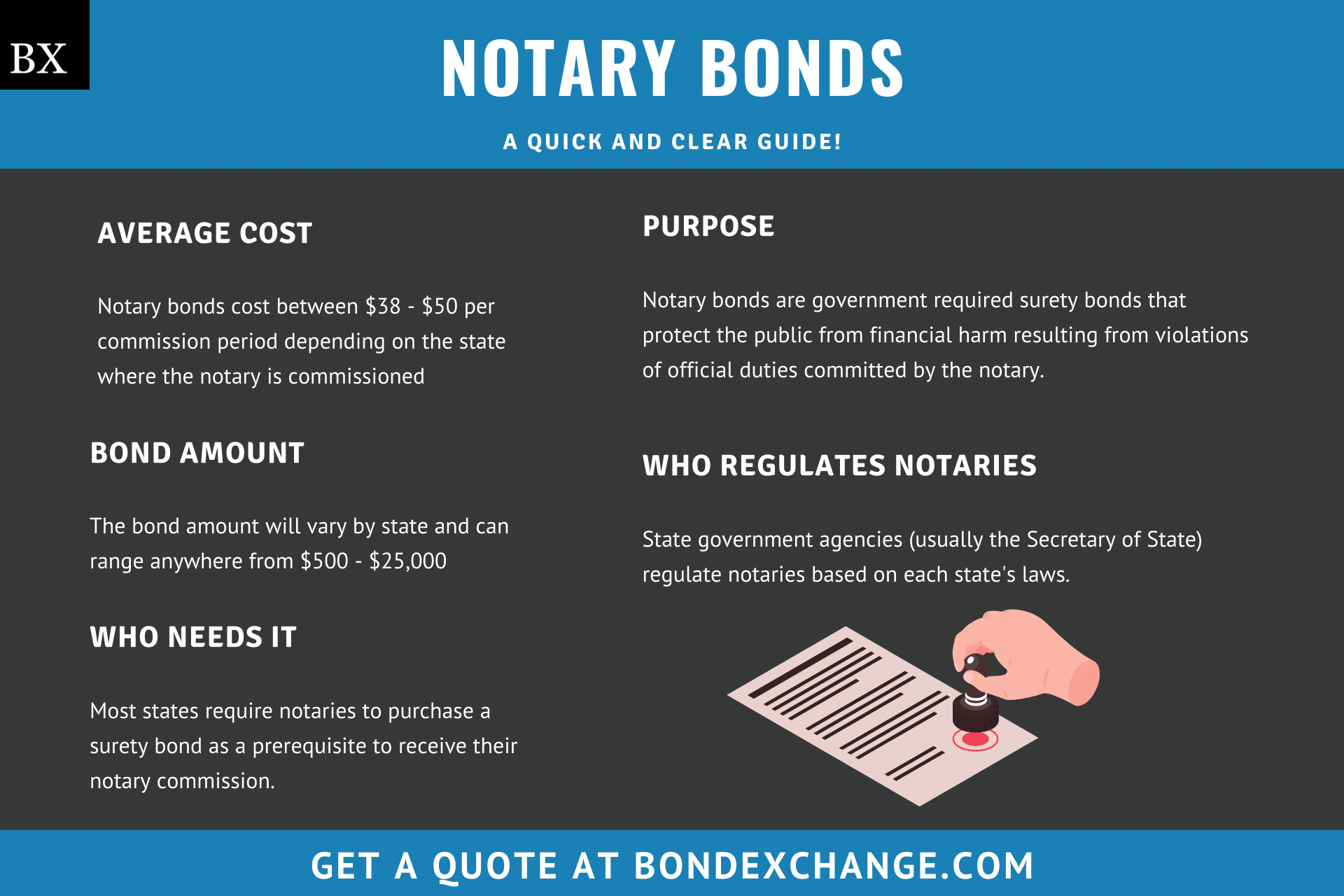 BondExchange now offers monthly pay-as-you-go subscriptions for surety bonds. Your customers are able to purchase their bonds on a monthly basis and cancel them anytime. Learn more here.
What Can Notaries Do to Avoid Claims Against a Notary Bond?
To avoid claims on a Notary Bond, notaries must adhere to all notary regulations in their state. Best practices for avoiding claims include the following:
Do not leave any notary supplies (seal and journal) in a place where they can be easily stolen
Do not perform notary services for entities/individuals who are engaged in acts of fraud
Ensure that the signers of documents are who they say they and are not misrepresenting themselves
Witness the signatures of all documents being notarized
Record all transactions in a notary journal
How Can an Insurance Agent Obtain a Notary Surety Bond?
BondExchange makes obtaining a Notary bond easy. Simply login to your account, select the state the bond is needed in and use our keyword search to find the "Notary" bond in our database. Don't have a login? Enroll now and let us help you satisfy your customers' needs. Our friendly underwriting staff is available by phone (800) 438-1162, email or chat from 7:30 AM to 7:00 PM EST to assist you.
At BondExchange, our 40 years of experience, leading technology, and access to markets ensures that we have the knowledge and resources to provide your clients with fast and friendly service whether obtaining quotes or issuing bonds.
Not an agent? Then let us pair you with one!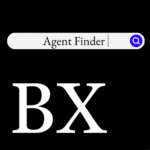 Click the above image to find a BX Agent near you
Which States Require Notaries to Purchase a Surety Bond?
The following states require notaries to purchase a surety bond:
| State | Bond Limit |
| --- | --- |
| Alabama | $25,000 |
| Alaska | $2,500 |
| Arizona | $5,000 |
| Arkansas* | $7,500 |
| California | $15,000 |
| District of Columbia | $2,000 |
| Florida | $7,500 |
| Hawaii | $1,000 |
| Idaho* | $10,000 |
| Illinois* | $5,000 |
| Indiana | $25,000 |
| Kansas* | $7,500 |
| Kentucky* | $1,000 |
| Louisiana | $10,000 |
| Michigan* | $10,000 |
| Mississippi* | $5,000 |
| Missouri* | $10,000 |
| Montana* | $25,000 |
| Nebraska | $15,000 |
| Nevada | $10,000 |
| New Mexico | $10,000 |
| North Dakota | $7,500 |
| Oklahoma | $1,000 |
| Pennsylvania* | $10,000 |
| South Dakota* | $5,000 |
| Tennessee* | $10,000 |
| Texas | $10,000 |
| Utah* | $5,000 |
| Washington | $10,000 |
| Wisconsin* | $500 |
*Surety bond cost includes free Errors and Omissions (E&O) insurance with coverage up to the bond amount.
How Will Remote Online Notarizations Affect Notary Bonds?
Remote online notarization, or RON, is the process of notarizing documents electronically when the notary and signee are in two different locations. States differ in their regulatory approach toward RON such as requiring additional bonds for remote online notaries. Insurance agents should reference our Remote Online Notarizations page for an in-depth look into how the widespread adoption of RON will affect notary bond demand.
What Other Insurance Products Can Agents Offer Notaries?
Many notaries will consider obtaining errors and omission insurance. Unlike a surety bond, E&O insurance protects the notary as opposed to the public. BondExchange offers free notary E&O insurance with the surety bond purchase in most states.