Power Your Website with BondExchange's Quoting Technology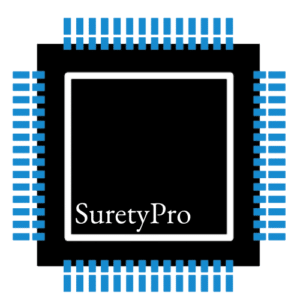 Obtaining coverage for your customers requires work. Some policies demand more work than others, but it's a fact of life that you have to expend time and effort on every policy you issue. It's not a bad thing; after all, issuing and renewing policies is how your agency stays in business. However, the time you spend filling out applications and corresponding with underwriters for one policy takes away from the time available to spend on the next one, the one after that, etc. If the work required to obtain a type of coverage outweighs the commission being generated, you may wonder if writing it is even worth it.
Our goal at BondExchange has always been to reduce the amount of work required of agents to obtain a surety bond, and we are excited to announce that this goal has come to complete fruition. That's right, we've figured out a way to decrease agents' workloads to zero.
How did we do it? One word: SuretyPro
What is SuretyPro?
SuretyPro is a completely free-to-use tool that allows agents to quote surety bonds directly from their websites. We first launched SuretyPro in late 2020, and have continually refined it to make quoting more and more seamless for agents and their customers. With SuretyPro, you can:
Embed BondExchange's surety bond technology right on your website.
Create custom applications for specific surety bonds that contain your agency's branding
Paste these applications on your website
Create shareable links for these applications that you can share via email, text message, and social media
What Does SuretyPro Do?
SuretyPro eliminates all work required of agents to obtain surety bonds for their customers. With SuretyPro, you can simply direct your customers to your website or send them a custom application via text or email. They fill out the application, and you receive a commission shortly after the policy is issued.
How Does SuretyPro Work?
To gain access to SuretyPro, simply:
Login to your BondExchange account (Don't have an account? Gain access now!)
Click "Edit Your Profile"
Click "Get SuretyPro"
From here, you can create a custom application for a specific bond (or use a generic one applicable to all bond types), choose one of our pre-built cards, and copy a shareable link. You can create an unlimited amount of custom applications and shareable links. Additionally, agents installing SuretyPro will be able to quote bonds straight from their website's URL, without directing their customers to another website.
The Bottom Line
The saying "hard work pays off" has a lot of truth to it. From landing on the moon to curing diseases, humanity has accomplished a great deal through the sweat of its brow. However, the saying "work smarter, not harder" is equally relevant, and using SuretyPro allows agents to do just that.
How Can an Insurance Agent Obtain a Surety Bond?
BondExchange makes obtaining a surety bond easy. Simply log in to your account and use our keyword search to find your bond in our database. Don't have a login? Gain access now and let us help you satisfy your customers' needs. Our friendly underwriting staff is available by phone at (800) 438-1162, email, or chat from 7:30 AM to 7:00 PM EST to assist you.
At BondExchange, our 40 years of experience, leading technology, and access to markets ensure that we have the knowledge and resources to provide your clients with fast and friendly service whether obtaining quotes or issuing bonds.