Pawnbroker Bond: A Comprehensive Guide
This guide provides information for insurance agents to help their customers obtain a Pawnbroker bond.
What is a Pawnbroker Bond?
Pawnbroker bonds are government-required surety bonds that pawnbrokers must purchase as a prerequisite to operating a pawn shop. Pawnbroker bonds ensure that the public will receive compensation for financial harm if the broker violates the terms of their license. Specifically, these bonds protect the public from financial harm if the pawnbroker commits fraud or engages in unethical business practices.
For example, if a person leaves the property with a pawnbroker as collateral for a loan and the pawnbroker sells that property before the terms of the loan allow, the consumer can file a claim against the pawnbroker's bond to recoup their losses. Other situations that may cause a claim are if a pawnbroker fails to redeem a pledged item left in the possession of the pawnbroker during the duration of the pawn contract or if the pawnbroker charges service fees higher than allowed by law.
Many states and local governments require pawnbrokers to purchase a surety bond as a prerequisite to obtaining a business license. Some states handle pawnbroker licensing directly, while the majority allow local municipalities to regulate and license pawnbrokers. The bond must remain active for as long as the pawnbroker is in business, and brokers must ensure they renew their surety bond each time they renew their license.
Unlike most insurance products, surety bonds protect a third party (consumers pawning their property) from acts that violate the law. When the surety company suffers a loss due to the pawnbroker's actions, the pawnbroker must repay the surety company for any losses and sometimes court costs or other fees.
Who is Considered a "Pawnbroker"?
Most states and local governments require pawnbrokers to apply for a license and purchase a surety bond before operating a pawn shop. State definitions vary on who is considered a "pawnbroker", but a pawnbroker is generally defined as a person who issues loans to individuals that leave their property, as collateral, for the broker to sell on condition that the customer may repurchase the property within a fixed period of time.
General exceptions to this definition include:
Licensed secondhand dealers who do not issue loans
Licensed precious metal dealers who do not issue loans
Licensed banking institutions, building and loan associations, or credit unions
Some states require pawnbrokers to purchase a surety bond for each pawn shop they operate, while others only require a surety bond if the pawnbroker does not meet specific financial (net worth or liquidity) requirements.
Who Regulates Pawnbrokers?
State government agencies and local municipalities regulate pawnbrokers based on licensing laws written by state legislatures and city councils. Governments, specifically local police departments, enforce the law by instituting requirements such as a business license and/or permit, financial or net worth minimums, fingerprinting, background checks, and a surety bond. The surety bond ensures the public will be compensated if the pawnbroker fails to comply with the law.
How Much Does a Pawnbroker Bond Cost?
Depending on where the pawnbroker is conducting business, a pawnbroker bond can either cost a fixed rate (typically $100 per year) or a percentage of the bond amount paid annually. Pawnbroker bonds are typically considered low-risk, so surety companies will usually not run a credit check before issuing one. However, companies will run a credit check for higher-risk pawnbroker bonds to determine eligibility and pricing.
For higher-risk bonds, pawnbrokers with good credit and business experience can expect to pay the lowest rates, while pawnbrokers with poor credit will pay higher rates. Below is an example of the cost of a $20,000 pawnbroker bond with a credit requirement.
$20,000 Pawnbroker Bond Cost
| Credit Score* | Bond Cost (1 Year) | Bond Cost (1 month) |
| --- | --- | --- |
| 625+ | $200 | $20 |
| 600 – 624 | $520 | $52 |
| 575 – 599 | $600 | $60 |
| 500 – 574 | $1,000 | $100 |
*The credit score ranges do not include other factors that may result in a change to the annual premium offered to your customers, including but not limited to, years of experience and underlying credit factors contained within the business owner's credit report.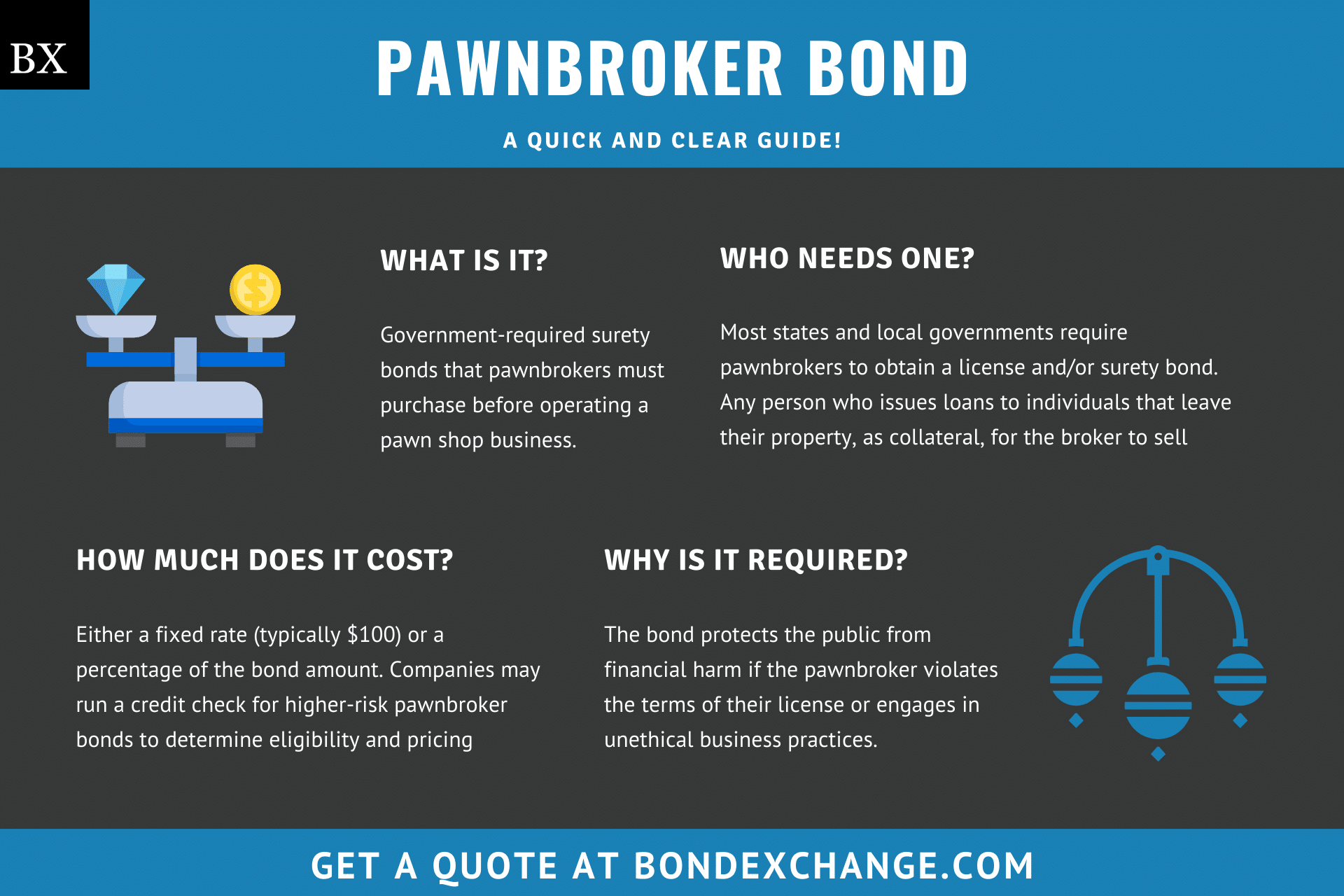 BondExchange now offers monthly pay-as-you-go subscriptions for surety bonds. Your customers are able to purchase their bonds on a monthly basis and cancel them anytime. Learn more here.
How Does a Pawnbroker File Their Bond?
Surety bond companies will provide the pawnbroker with a completed bond form to be filed with the relevant government agency. Most states require the original bond with a raised surety company seal to be filed by mail or in person.
Surety companies should include the following information on most bond forms
Legal name of the entity/individual(s) buying the bond

Surety company's name and state of incorporation

Name of the

obligee

and the license type being applied for

Date the bond is signed and goes into effect

Bond amount
What Can Pawnbrokers Do to Avoid Claims on Their Bond?
To avoid claims on a pawnbroker bond, pawnbrokers must adhere to all local and state regulations governing their license. Best practices for avoiding claims include the following:
Do not engage in any acts of fraud
Adhere to all consumer contracts
Do not purchase or sell any stolen goods
Maintain an accurate record of transactions
File all required reports with the regulatory agencies
Follow all legal requirements when liquidating forfeited property
How Can an Insurance Agent Obtain a Pawnbroker Surety Bond?
BondExchange makes obtaining a Pawnbroker Bond easy. Simply login to your account, select the state the bond is needed in, and use our keyword search to find the "Pawnbroker" bond in our database. Don't have a login? Gain access now and let us help you satisfy your customers' needs. Our friendly underwriting staff is available by phone (800) 438-1162, email or chat from 7:30 AM to 7:00 PM EST to assist you.
At BondExchange, our 40 years of experience, leading technology, and access to markets ensure that we have the knowledge and resources to provide your clients with fast and friendly service whether obtaining quotes or issuing bonds.
Not an agent? Then let us pair you with one!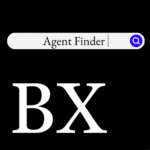 Click the above image to find a BX Agent near you
Which States Require Pawnbrokers to Purchase a Bond?
31 states either require pawnbrokers to purchase a bond or have municipalities that do. The following states and municipalities require pawnbrokers to purchase a surety bond:
| State | Bond Limit |
| --- | --- |
| Alaska | |
| Alabma | |
| California | $20,000 |
| Colorado | |
| Connecticut | $2,000 |
| District of Columbia | $5,000 |
| Florida | $10,000 |
| Georgia | |
| Indiana | $50,000 to $200,000 |
| Iowa | |
| Kentucky | |
| Louisiana | $50,000 |
| Maryland | |
| Massachusetts | |
| Michigan | |
| Minnesota | |
| Mississippi | $10,000 |
| Nebraska | |
| New Jersey | $1,000 |
| New Mexico | |
| New York | |
| North Carolina | $5,000 |
| North Dakota | |
| Ohio | $50,000 |
| Oklahoma | |
| Oregon | $25,000 |
| Pennsylvania | $2,000 |
| Rhode Island | $2,000 |
| South Carolina | |
| Virginia | $50,000 |
| Wisconsin | |
What Other Insurance Products Can Agents Offer Pawnbroker Bond Customers?
Many states require pawnbrokers to obtain liability insurance coverage against possible loss or damages of pawned items resulting from fire, theft, and burglary. Pawnbrokers with employees will also need to purchase worker's compensation insurance in some states. Bonds are our only business at BondExchange, so we do not issue any other types of insurance, but our agents often utilize brokers for this specific line of business. Agents can access a list of brokers here.
[/fusion_text][/fusion_builder_column][/fusion_builder_row][/fusion_builder_container]