When to Offer Your Customers Commercial Crime Coverage
May 24, 2022
Picture this: A business owner falls victim to employee theft in an amount that exceeds the coverage afforded to them in their standard business owner's policy. Naturally, they are distraught as they have to eat the remaining costs. After researching how to ensure that a similar situation does not occur, the owner discovers that there is a type of insurance that explicitly protects them from employee theft. Yet, their insurance agent never offered it to them. The business owner no longer has faith in their agent's ability to provide them with the right policies, and they find someone else who can.
Now picture this: The business owner's insurance agent advises them to obtain commercial crime coverage, and when the employee theft occurs, they are covered for all losses. The owner is grateful that their agent recommended this policy, and their professional relationship is strengthened.
Which of the above situations do you prefer? In this article, we explain what commercial crime coverage is, how it works, and why insurance agents should offer it to their customers.
What is Commercial Crime Coverage?
Whenever you hear the term "commercial crime coverage", what is being referred to are fidelity products, such as fidelity bonds and commercial crime policies, that protect businesses from losses when criminal acts are committed against them.
Fidelity Bonds
Fidelity bonds, aka employee dishonesty or business services bonds, are generally written for limits at or under $100,000, provide 3rd party coverage, and contain conviction clauses (more on this later). Some carriers opt to build 1st party coverage into their offerings; however, it is not the industry standard for fidelity bonds. Fidelity bonds cover various businesses and provide the general employee theft coverage needed for most companies. However, what if your customer needs larger limits? What if they need to tailor their policy for additional protection? If you or your customer are asking these questions, a commercial crime policy may be the answer.
*Important Note: All commercial crime policies are fidelity products. However, not all fidelity bonds are commercial crime policies, as these policies contain all the same coverages as fidelity bonds plus additional items that round out the coverage.
Commercial Crime Policies
At their core, commercial crime policies are fidelity bonds. That said, commercial crime policies can be issued for limits in excess of $100,000 and have additional coverage options that can be added to make the policy more comprehensive. Depending on the type of coverage needed, a commercial crime policy can be tailored to add additional protections. Below are some of the most common commercial crime policies:
3rd Party
Protects the clients of the business that has purchased the bond from theft if one of the business's employees steals their property. For example, suppose an employee of a janitorial services company steals the property of a tenet of a building the company has been hired to clean. In that case, the janitorial company's bond will reimburse the tenet for losses.
1st Party
Protects the business that has purchased the bond from theft committed against them by one of their employees. For example, if an employee of an auto dealership has been embezzling funds, then the dealership's fidelity bond will reimburse them for losses.
Computer and Funds Transfer Fraud
Covers the loss of a business's money, securities, and other property as a result of computer fraud. To qualify for reimbursement, the loss must be directly related to the use of any computer to fraudulently transfer property from inside either the business's or a bank's premises to a person or place outside that premises without the business's knowledge.
Inside the Premises
Covers the loss of a business's money and securities from theft, disappearance, or destruction while the property is inside the business's or a bank's premises.
Outside the Premises
Covers the loss of a business's money and securities from theft, disappearance, or destruction while the property is outside the business's or a bank's premises and is in the care and custody of a messenger.
Forgery and Alteration
Addresses losses by forgery or alteration of checks, drafts, promissory notes, or similar written promises, orders, or directions to pay money that are drawn on the business's own accounts. This coverage protects businesses against forgery losses caused by a person other than an employee.
Money Orders and Counterfeit Currency
Provides coverage for losses resulting directly from accepting money orders that are not paid upon presentation as well as counterfeit paper currency, in exchange for services accepted.
Investigative Expenses
Provides reimbursement for reasonable expenses paid to establish the existence, and to determine the amount, of loss covered under certain insuring agreements.
Computer Systems Restoration Expenses
Provides reimbursement for reasonable computer restoration expenses incurred by a business when a covered loss occurs from employee theft, theft while on a client's premises, or computer and funds transfer fraud.
Identity Recovery Expenses Reimbursement
Provides reimbursement for reasonable and necessary expenses incurred as a result of identity theft to specific individuals within the organization.
Deception Fraud/Social Engineering Fraud
Provides protection from loss of money or securities when employees are intentionally misled by fraudulent information and tricked into sending money or diverting payments to imposters.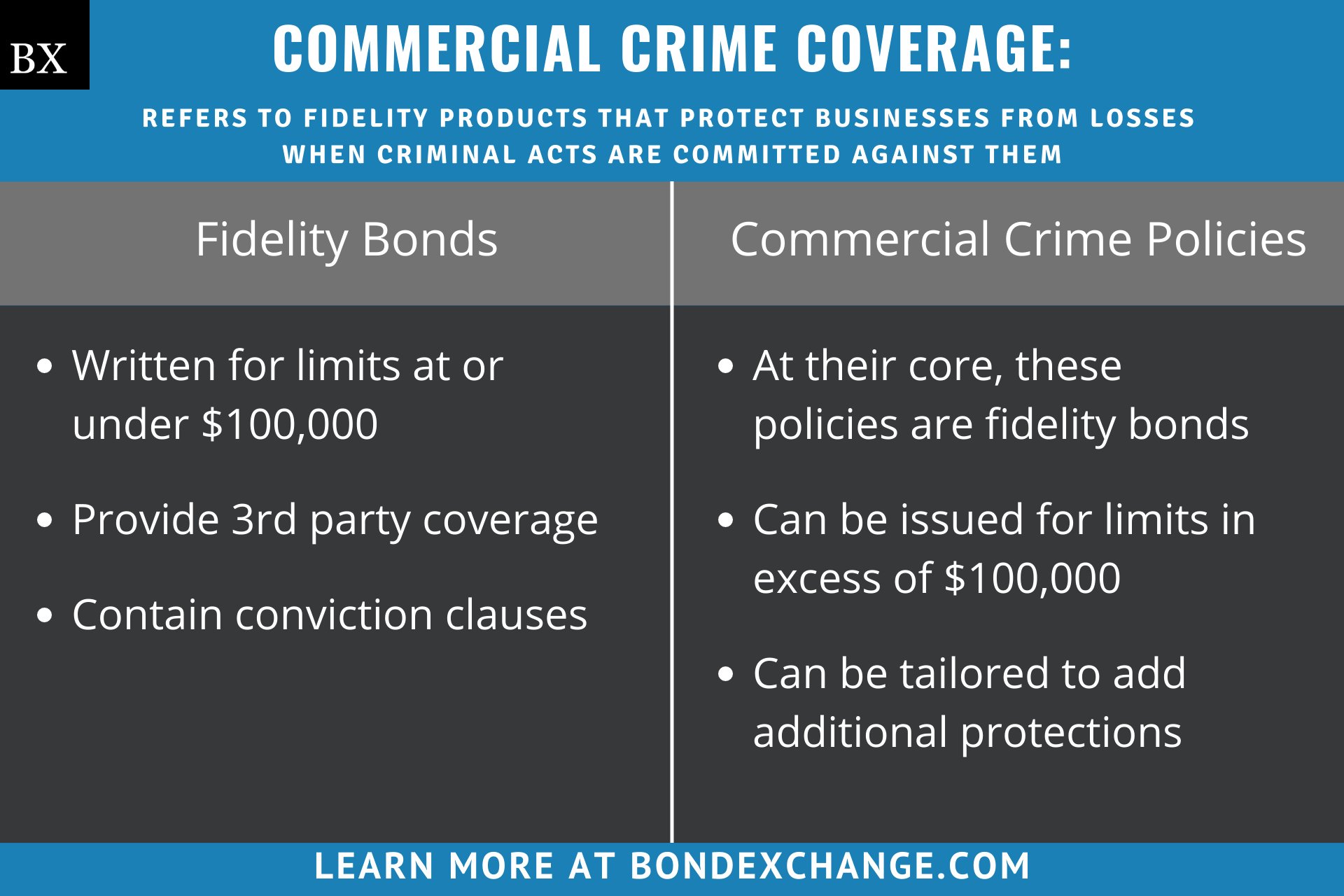 Who Needs Commercial Crime Coverage?
Commercial crime coverage is generally not mandated (except for certain financial services providers). However, every business with employees can benefit from a fidelity bond. These bonds are also highly recommended for business service providers that handle clients' property or sensitive financial data. Additionally, purchasing a fidelity bond with third-party coverage allows your customers to better market themselves and provides peace of mind to potential clients. At BondExchange, our agents submit a wide variety of applications for commercial crime coverage. Some of the most common applicants are:
Condo/Home Owners Associations
Janitorial Services Companies
Construction Companies
Non-Profits
Title Agents or Escrow Officers
What is Not Protected By Commercial Crime Coverage?
Fidelity bonds and commercial crime policies do not protect against:
Actions committed by the business owner or any senior manager
Acts committed by employees learned of by the owner prior to the policy period
Data Security Breaches
Governmental Action
Indirect Loss:

Loss of business income
Payment of damages for which the insured is legally liable
Expenses incurred in establishing either the existence or the amount of loss under the policy.

Actions committed by non-employees
Actions committed by employees with known criminal records
Accounting errors that are noncriminal in nature
Nuclear Hazard
Pollution
War and Military Action
Beware of Conviction Clauses
A key distinction between fidelity bonds and commercial crime policies is the addition of a conviction clause. These clauses stipulate that the person committing theft, fraud, etc., must be convicted of the crime before a claim can be paid out. It is common for fidelity bonds to have a conviction clause; however, most commercial crime policies do not contain this requirement. Contact BondExchange for help determining whether your customer's fidelity bond contains a conviction clause.
The Bottom Line
Obtaining commercial crime coverage protects your customers and their clients from various criminal actions committed against them. While business-related crime may not be on the top of your customers' minds, it is still essential that they recognize the financial and professional risks that not having this coverage presents them. We recommend advising your customers to consider purchasing a fidelity bond, especially if they have multiple employees or provide business services. Remember, nobody needs additional insurance…until they do.
How Can an Insurance Agent Obtain Commercial Crime Coverage?
BondExchange makes obtaining commercial crime coverage easy. Simply log in to your account and use our keyword search to find the "fidelity" bond in our database. Don't have a login? Enroll now and let us help you satisfy your customers' needs. Our friendly underwriting staff is available by phone at (800) 438-1162, email, or chat from 7:30 AM to 7:00 PM EST to assist you.
At BondExchange, our 40 years of experience, leading technology, and access to markets ensures that we have the knowledge and resources to provide your clients with fast and friendly service whether obtaining quotes or issuing bonds.
Not an agent? Then let us pair you with one!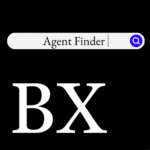 Click the above image to find a BX Agent near you