Surety Bond Renewals: 3 Helpful Tips for Insurance Agents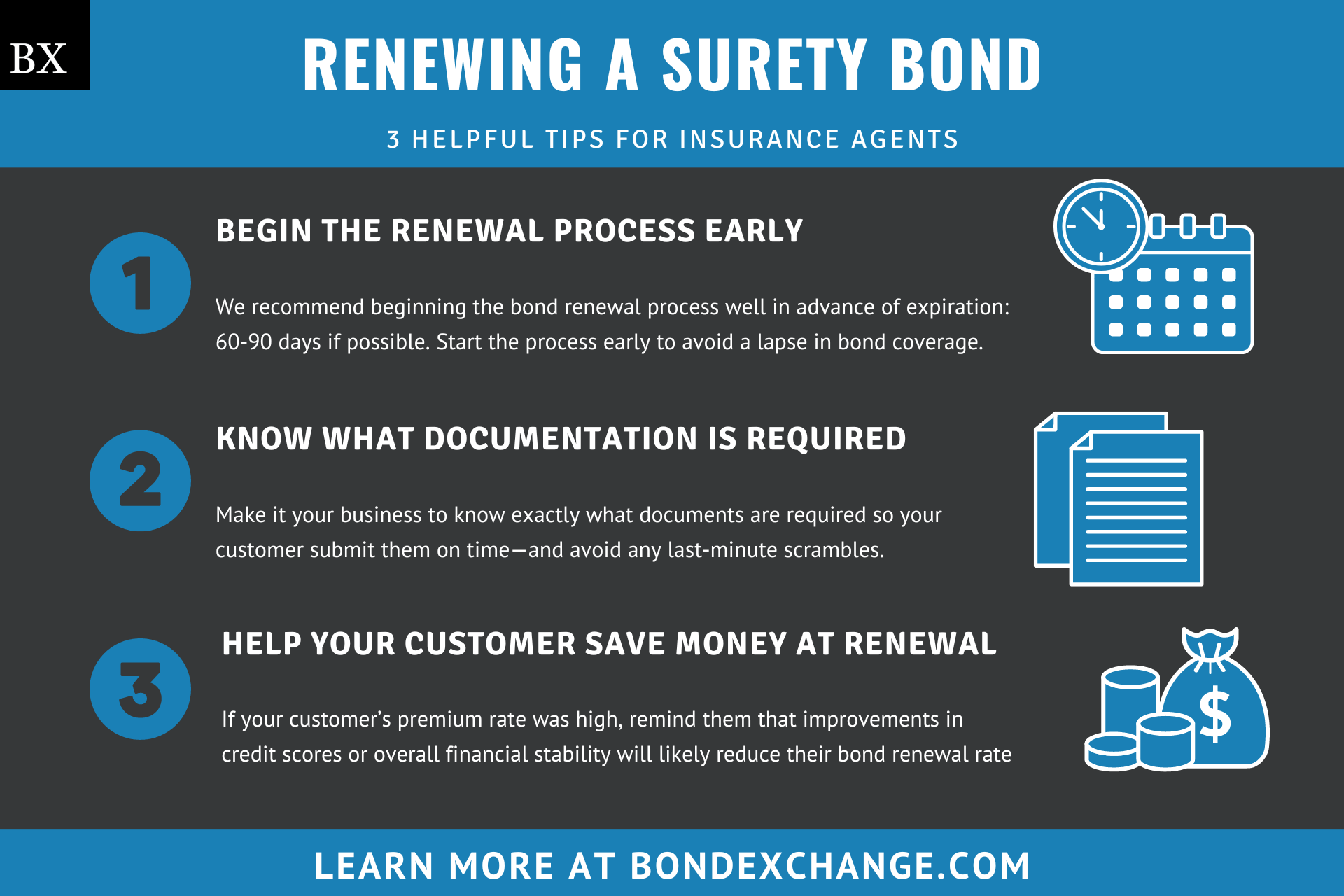 As a general rule, surety bond renewals are simpler than the initial application. But there are still some things to know that can help ensure the renewal process is smooth and painless for your customer. In this article, we will go over three helpful tips for insurance agents to help their customers renew their surety bonds.
Begin the Renewal Process Early
Time flies. And so too can the term for a surety bond, which is typically one year. It's critical that you stay vigilant and get out ahead of—way ahead of—those fast-arriving renewal dates because a lapse in bond coverage can have big repercussions.
For example, license and permit bonds are closely tied to the issuance of the licenses and permits themselves. If a license or permit bond is allowed to expire, the termination of the principal's license or permit will follow shortly after that. In the period it takes to get everything back on track, your customer could lose out on business.
We recommend beginning the bond renewal process well in advance of expiration: 60-90 days if possible. This is to ensure that you not only give yourself and your customer enough time to work through the renewal process, but also the provider and obligee. It's not uncommon for these parties to be backlogged due to renewal congestion or shortened holiday hours.
Know What Documentation Is Required
Some surety bonds are continuous and require no new documentation upon renewal; others require a continuation certificate. Still others, especially those with fixed-term end dates, require an entirely new bond to be issued. Most renewals will not require your customer to submit any additional information. However, underwriters could request documentation regarding your customer's credit or financial history, especially if there were changes to the bond.
The best way to confirm what documentation is needed is by calling the surety company directly. Make it your business to know exactly what bond renewal documentation is required so that your customer can attend to it in a timely fashion—and avoid any last-minute scrambles.
Help Your Customer Save Money at Renewal
For most bonds, the amount paid for the original bond will be the same upon renewal. However, underwriters take into account a number of risk factors when determining premium rates for surety bonds. Among these factors is the risk that your customer presents in terms of their ability to reimburse the surety if a claim is made. Minimizing these risk factors provides your customer the opportunity to obtain a better premium rate.
So if your customer's premium rate was high last year, it's important to remind them that improvements in credit scores or overall financial stability will likely reduce their bond renewal rate. Not all bond types require an underwriter's review of your customer's finances. For those that do, the ability to demonstrate improvements can result in significant savings.
Need Help Renewing Surety Bonds for Your Customers?
Never miss a customer's surety bond renewal deadline. With BondExchange, we make renewing surety bonds easy for insurance agents and give agents the ability to:
Quote renewals 90 days prior to expiration and make them available for purchase online
Instantly issue riders online if any changes to the bond occur.
Utilize our direct bill renewal process and let us bill your customer automatically with professional invoices that display your agency name and logo
Easily obtain all required renewal forms so your customer stays compliant with the obligee
At BondExchange, our 40 years of experience, leading technology, and access to markets ensure that we have the knowledge and resources to provide your clients with fast and friendly service whether obtaining quotes or renewing bonds. Our friendly underwriting staff is available by phone at (800) 438-1162, email, or chat from 7:30 AM to 7:00 PM EST to assist you. Leverage our experience—and free online platform—to streamline the surety bond renewal process.