Surety Bond Basics: Cancellation Notices
August 5, 2021
Receiving a cancellation notice for a surety bond can be a pretty stressful experience. Many surety bonds act as a prerequisite to conducting business operations, and if your customer's bond gets cancelled they may be required to shut down until they can obtain new coverage. If your customer does receive a cancellation notice, chances are the first person they will call is their insurance agent, underscoring the need for agents to be well versed in this topic. In this week's blog article, we provide a comprehensive overview of cancellation provisions, notices, and provide insights to the reasons surety bonds may be cancelled, helping insurance agents better serve their surety customers.
What is a Cancellation Notice?
A cancellation notice is a written correspondence from a surety company indicating that they will cancel the principal's surety bond on a specific date. Think of cancellation notices as similar to eviction notices. The surety company (landlord), is informing your customer (tenet), that due to a breach of contract they will be forced to cancel their surety bond coverage (be evicted from the premises). Simply receiving a cancellation notice does not guarantee that your customer will have their bond cancelled, as they will have until the date specified in the notice to rectify the situation. Most surety bonds require at least 30 days notice prior to cancellation.
Why Do Surety Companies Send Cancellation Notices?
There are multiple reasons explaining why surety companies send cancellation notices, but the most common cause is the principal's failure to pay the proper premium owed on their bond. Premium on a surety bond will be owed in full prior to issuance of the bond. However, most third party brokers offer payment plan options for principals who wish to segment their premium payments over an extended period of time. Unlike insurance, surety bonds protect the obligee from financial harm in the event your customer acts unethically. So as long as the bond is active, the surety company is liable for all claims made against it, regardless of whether or not the principal is up to date on their premium payments. If your customer, for whatever reason, does not pay the premium owed on their bond then they will most likely receive a cancellation notice.
Additionally, surety companies will send a cancellation notice should valid claims be filed against a bond. Remember, surety bonds are subject to indemnification, meaning your customer is legally liable to repay the surety company for all claims and expenses. If your customer fails to repay the surety company for losses, then receiving a cancellation notice is likely to be the least of their worries as the surety company will probably initiate litigation to recover these funds.
It is important to note that not all cancellation notices are cause for concern. For example, if your customer's bond is placed with a new surety company at renewal then they will receive a cancellation notice from the prior surety company. Your customer should not worry as they will still maintain their bond coverage, albeit with a different carrier.
If your customer does receive a cancellation notice, call us today at (800) 438-1162 and we will be happy to offer additional context as to why exactly the notice was received.
Can all Surety Bonds Be Cancelled?
Technically no. Most bonds will contain a cancellation provision dictating the surety's ability to extinguish their liability under the bond; however, some bonds require a written release from the obligee discharging the surety and principal from their obligation under the bond. Surety bond underwriters will review bonds that require releases more stringently, as bonds that are difficult to cancel increase the surety company's risk. Below are the three ways to cancel a surety bond: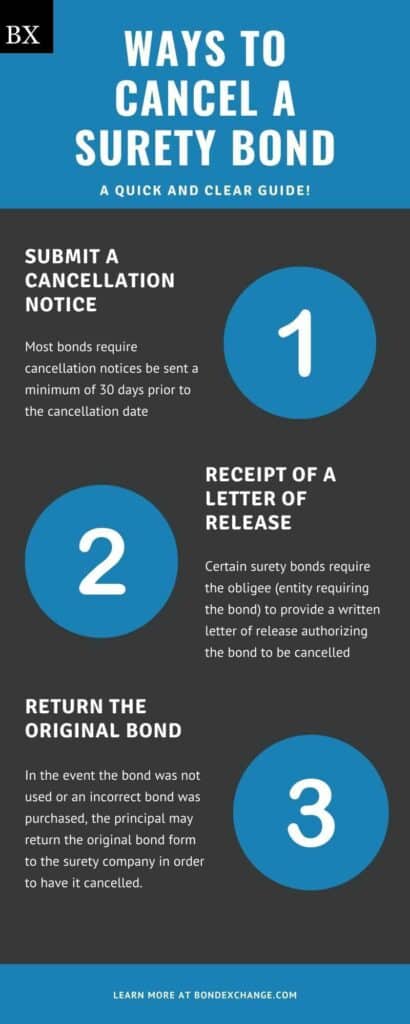 Submit a Cancellation Notice
The simplest form of cancellation is for the surety company to provide written notice to the principal informing them that their bond will be cancelled on a specified date. Most business license and permit bonds require cancellation notices be sent a minimum of 30 days prior to the cancellation date. Depending on the obligee, some cancellation notices can be filed electronically while others are required to be sent via registered or certified mail.
Receipt of a Letter of Release
This is where bond cancellations get a bit more complicated. Certain surety bonds require the obligee (entity requiring the bond) to provide a written letter of release authorizing the bond to be cancelled. A letter of release is often required for probate, civil/judicial court, or subdivision bonds, where the letter of release is contingent upon the obligee verifying the principal has satisfied their obligations under the bond.
Return the Original Bond
In the event the bond was not used or an incorrect bond was purchased, the principal may return the original  bond form to the surety company in order to have it cancelled. It is important to note that if the bond was actually filed, most obligees will not release the original bond back to the principal. In these instances, the surety will simply adhere to the cancellation provision in the bond form.
To determine the correct process for cancelling your customer's bond, simply review the language contained within the bond form. Feel free to contact BondExchange for assistance.
Can Principal's Cancel Their Bond?
As long as the bond contains a cancellation provision, the principal can cancel their bond if they so choose. Keep in mind the surety must adhere to the cancellation period in the bond form. For example, should the principal request cancellation on August 15th for a bond that has a 30 day cancellation period, the actual cancellation date would be effective as of September 14th.  Additionally, if your customer cancels their bond, they will be unable to perform whatever action their bond served as a prerequisite for, and may have their business license suspended until they obtain new surety coverage.
How Can an Insurance Agent Obtain a Surety Bond?

BondExchange makes obtaining a surety bond easy. Simply login to your account and use our keyword search to find your bond in our database. Don't have a login? Enroll now and let us help you satisfy your customers' needs. Our friendly underwriting staff is available by phone (800) 438-1162, email or chat from 7:30 AM to 7:00 PM EST to assist you.
At BondExchange, our 40 years of experience, leading technology, and access to markets ensures that we have the knowledge and resources to provide your clients with fast and friendly service whether obtaining quotes or issuing bonds.