How Much Does a Surety Bond Cost? A Guide for Agents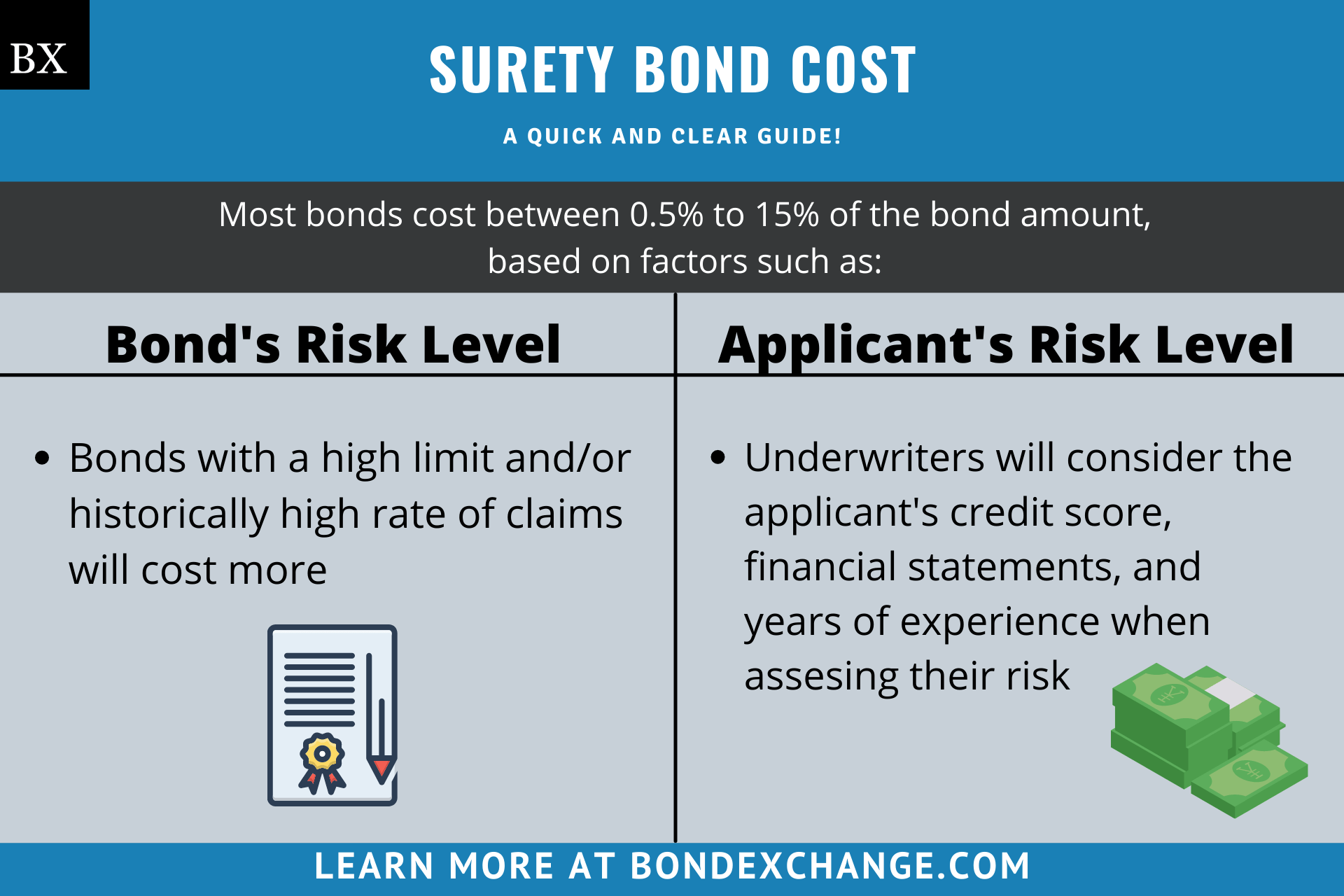 The process of determining the cost of a surety bond is similar to those of other, more traditional lines of insurance. Underwriters examine the level of risk writing the bond presents to the carrier and then set the premium rate to match this assessment. However, surety bonds and traditional insurance diverge regarding what factors underwriters examine. To help insurance agents better serve their customers, we have written this article explaining how much surety bonds cost and the guidelines underwriters use when making their risk assessments.
How Much Does a Surety Bond Cost?
The cost (usually in the form of annual premium payments) for most surety bonds generally falls between 0.5% and 10% of the bond amount. For example, a $20,000 bond could conceivably come in at anywhere between $100 and $2,000. If you do the math, that's a pretty big spread.
How is a Surety Bond's Cost Determined?
Surety companies determine the cost of a bond by examining:
The Bond's Level of Risk
Bonds with a high limit (think $50,000 or more) and a historically high rate of claims will be considered riskier by underwriters and therefore cost more. Think of it this way; insurance companies know that houses closer to the ocean are at a higher risk of sustaining storm and flood damage and therefore charge more to insure beachfront properties than ones that are miles away from the sea. The same logic applies to surety bonds, and if the surety company knows that there is a high probability of having to pay out a claim on a specific bond, they'll charge more for it.
The Applicant's Level of Risk
When assessing your customer's level of risk, underwriters will examine their:
Credit score (soft check, meaning it won't affect your customer's credit)
Business and personal financial statements (only required for bonds with limits of $50,000 or more)
Years of business experience
History of bond claims
Surety bonds are subject to indemnification, meaning that your customers must repay the surety company for all valid claims and claims handling expenses. Therefore, underwriters will want to determine the likelihood your customer will violate the bond's provisions and their ability to repay the surety company if a claim were to occur.
Are all Surety Bonds Underwritten?
No, bonds that are considered low-risk enough will not be subject to any underwriting requirements. For example, notary bonds can cost as little as $38-50, depending on the state the applicant is in, and are issued instantly regardless of their applicant's credit score, years of experience, etc.
How Can Insurance Agents Obtain a Surety Bond?
BondExchange makes obtaining surety bonds easy. Simply log in to your account and use our keyword search to find your bond in our database. Don't have a login? Enroll now and let us help you satisfy your customers' needs. Our friendly underwriting staff is available by phone at (800) 438-1162, email, or chat from 7:30 AM to 7:00 PM EST to assist you.
At BondExchange, our 40 years of experience, leading technology, and access to markets ensures that we have the knowledge and resources to provide your clients with fast and friendly service whether obtaining quotes or issuing bonds.